Google Adwords is an excellent online marketing tool for offering your products and services to your target public with the possibility of highly detailed segmenting. However, many businesses find it difficult to achieve conclusive results, and that is when Adwords turns into a financial abyss for them.
Here at Lifting Group we have years of experience in creating and optimizing effective and profitable Google Adwords campaigns. Proof of this is our recognition as a Premier Google Partner.
That's why we've decided to share some tips with you so you can simply and easily improve the outcome of your campaigns.
1.ENSURE THAT THAT YOUR OBJECTIVES ARE CLEARLY DEFINED SO YOU CAN ALIGN THEM WITH YOUR ADWORDS STRATEGY
Before you start or continue to advertize in Google Adwords, you need to know if this payment channel is the right one in terms of your objectives. For example, the objectives of a footwear company that only sells via physical distributors with its own website that is exclusively corporate (without a purchasing platform ) and those of a footwear that is 100% online will be very different when starting with Adwords. Having objectives that mesh with your Adwords strategy is essential to avoid substantial losses in terms of time and money..
That's why it's vital to start with the question: "What do I want to achieve with Adwords?". Then you have to establish clear objectives and KPIs to carry out the best possible tracking of your campaigns. And to do this, a tool like Google Analytics can be a great help.
2.MAKE SURE THAT YOUR OBJECTIVES ARE WELL CONFIGURED IN YOUR ANALYTICS.
It's very important to ensure that your objectives are well configured in your Analytics tool and imported in Adwords to get the maximum amount of information to help you to make the best decisions over time.
3.ANALYSE THE CONVERSIONS MADE TO UNDERSTAND WHERE THEY COME FROM
 If you have already used Google Adwords for your website (and with correctly configured conversions), you already have an interesting information base on the behavior of your potential client.
Basically, you now know what types of adverts worked, the key words with the most potential, the devices that most converted your prospects, the best times of day to achieve your objectives and a great deal more.
Then, with all this data you can prepare new campaigns with more likelihood of conversions or you can do a highly effective make over to the ones that are already active.
4.FOCUS YOUR ADVERTS WELL AND ATTRACT YOUR CLIENTS' ATTENTION.
The search results are comparable to an image of "Where's Wally?";":  if you don't clearly stand out within the SERPS, your potential clients won't be able to see your adverts and won't get to your website.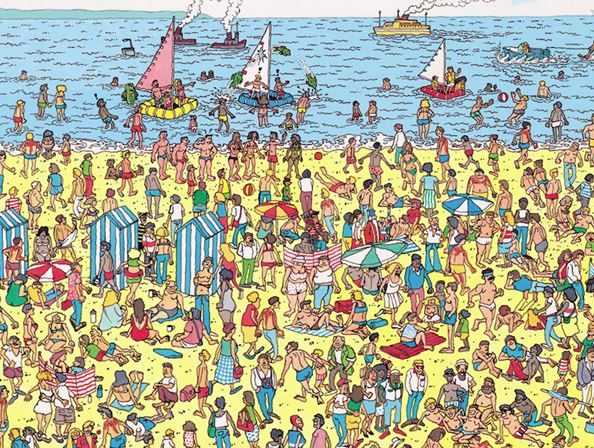 Wally, where are you?
It's vital for your adverts to be seen and for them to make users want to know more about your products and/or services.
Highlight the main advantages of your products and/or services
Don't hesitate to use calls to action ("Buy now!", "Register now!")
Write adverts that are closely related to your key words.
We'd advise you to separate similar key words into several groups of adverts so as to create more personalized adverts. That way you can maximize the possibilities of receiving clicks. For example, if your words are "surfing courses" and "surfing classes", they should be in the same group of adverts because the meaning is the same. Adapting to potential client expectations is a decisive factor in increasing your CTR.
In fact, the relevance of the advert is one of the 3 criteria of the (Quality Scores for key words along with the percentage of clicks expected and the experience of the target page.
Don't forget that the higher the quality of your key words, the more possibilities there are of reaching the best positions for your adverts, as well as reducing your CPC (Cost Per Click).
5.SHOW THE MAXIMUM INFORMATION POSSIBLE TO YOUR POTENTIAL CLIENTS.
Try to fill your adverts to the maximum with expanded text (titles, descriptions, visible URL) coming close to the limit of characters.
Google recommends using at least 3 different adverts in each group of ads to enable the tool to show which one works best over time.
Make use of the advert extensions. They not only allow you to show more information such as your location and telephone number, but also your strong points. Just like the adverts, it's a good idea to have at least 3 different types of extensions to get the best performance out of your campaigns.
So, by occupying more space, your ad is more visible and you'll have more possibilities of reaching your target public.
6.SKILLFULLY MANAGE KEY WORD MATCHING.
Obviously, reaching the maximum number of potential clients is the primary objective of any campaign. And that's what lets you create the key word match. See the table below with the pros and cons of the 4 matches.
Matches

Use

Example

Broad Match
 Activation for the variations that Google regards as relevant

+ Saves time when preparing campaigns

— Very little control over searches

— Likelihood of spending budget very quickly.

Key word: "Men's shoes"

Possible search: "buying shoes for men"

Broad Match Modifier
Activation for all the searches that include the terms

+ More control than the Broad Match

+ Enables long tail searches to be covered

– Likelihood of generating searches that are irrelevant

Key word: "+shoes -men"

Possible search: cheap shoes for men

Phrase Match
+ Closer and more relevant variations than the broad match

– Less possibilities of catching long tail searches

Key word: "Men's shoes"

Possible search: "buying shoes for men"

Exact Match
+ Total control over searches

– Limited activation of adverts.

Key word: [Men's shoes]

Possible search: men's shoes
Finding your target keywords with the Google keyword planner. We advise you to use this tool to search for all the possible and relevant variations of the key words. It will then be appropriate or not depending on what you offer to your clients and your objectives.
7.FREQUENTLY ADD NEGATIVE KEYWORDS.
Unless you put all the keywords with an exact match, every Adwords campaign generates searches that can be weird or simply unrelated to the offered products or services. So to avoid spending a major part of your budget, it's important to revise your search terms to exclude what is irrelevant by adding negative keywords..
Broad matches can be used, with exact phrases for negative keywords in the same way as for keyword matches. However, unlike "positive" keywords, you'll need to add all the variations, synonyms, and even the misspelled versions of the same words.
Tracking frequency depends on the volume of searches for your keywords and the impressions your adverts generate. It's a good idea to run a daily tracking in the first days after your campaign is activated.
8.PROVIDE YOUR USERS WITH THE BEST EXPERIENCE ON YOUR WEBSITE.
 You can have the best adverts with CTR that is close to perfection and even then you don't achieve a conversion if your website doesn't meet your users' expectations or the latest standards in terms of development and usability. The same thing happens with an online shopping website that doesn't have a version for mobile devices.
And we've already mentioned that the experience in the target page is one of the components of the Quality Score.
9.BOOST YOUR CAMPAIGNS FOR YOUR "HOTTEST" POTENTIAL CLIENTS.
Once you have more information about the performance of your adverts, a very effective way of boosting them is by using offer adjustments.
That way you can configure your bids to increase the possibility of your adverts appearing more often and with a better position according to the date, time, place and device used to make the search..
Thus, if most of your clients convert using a smartphone, apply a positive bid for cellulars. Likewise, if your potential clients convert from 9h to 11h on Tuesday and Thursday, you need your adverts to be most visible in these time periods. And that's what helps you to achieve offer adjustments.
10.DON'T LEAVE ONE SINGLE SCRAP FOR THE COMPETITION.
Regularly checking the content of your competitors' adverts is a good way of knowing more about their strong points and reacting accordingly.
Thanks to the auction data, you can consult the average position of your competition in searches, how often you appear together and when your adverts appear above theirs. This information can also be segmented by devices and the time of search (day, time). This is very useful when deciding what type of offer adjustments you should use.
11.ADOPT A GOOD BIDDING STRATEGY.
Don't hesitate to raise the bid of the keywords that convert best and that have an improbable average position.
Depending on your budget, it won't be necessary to do everything possible at maximum CPC level to reach the first position. It depends on the cost per conversion that you established for the campaign to stand out.
12.DON'T HESITATE TO STOP KEYWORD, ADVERTS OR CAMPAIGNS THAT AREN'T WORTH IT.
If you find out that some words or ads have a lower performance than the one you expected, don't hesitate to deactivate them from your Adwords campaigns. This generally happens when:
They have metrics (CTR, average position) that affect the performance of your campaign.
The browsing data of the users that comes from the key words is way below the average for yur website (rebound, pages/session, session duration).
The conversion rate is very low in comparison to the average and the cost per conversion is also very high.
It's also preferable to select the ones that function better in terms of conversion percentages than at CTR level. In the example below, advert B has a conversion percentage that is two times higher than advert A. Stopping B under the sole pretext that it has a lower CTR would be a mistake.
13.BUT DON'T FORGET YOUR CONVERSION ROUTES.
 The fact that there are no conversions from Adwords doesn't mean that your campaigns have been useless. For your clients to be ever more potential, they can go to your website, consult other websites or opinions about your products, return to your websites, or maybe they decided to end the action on another day, etc.
Bear in mind that if they have discovered and visited your website thanks to Adwords and then they have entered via a direct channel, the conversion may not be detected as achieved by Adwords because of the configuration. (In this case, Analytics attributes the conversion to the last channel, the direct one in this scenario).
In the example below, more than 40% of the conversions start with an entrance from Adwords and end up in a conversion from direct traffic. That's why  it's important to bear in mind the conversion routes to know about the real impact of your Adwords campaigns on your business.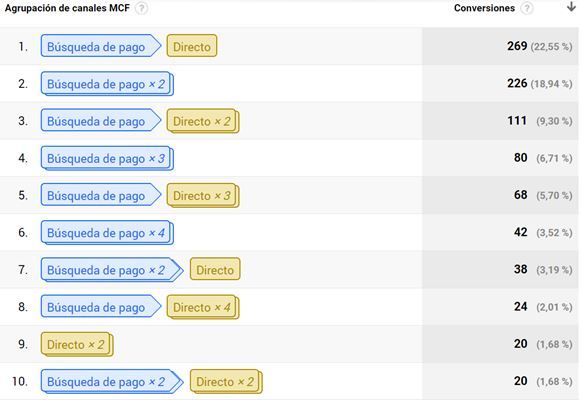 For more information, check out our article on attribution models.
OUR RECOMMENDATION.
Follow all the steps outlined above in this article in the pre-campaign phase and during activation. Don't be afraid to multiply the advert tests for keywords. It's simply the best way to find the ideal configuration and get the most out of Google Adwords!
You can count on Lifting Group and our experiences as an SEM agency and Google Premier Partner to help you boost your conversions in Adwords!