On 22 June the Google Partners Mobile Labs seminars were held at the MACBA museum in Barcelona. A total of 70 agency representatives and clients attended the event. Lifting Group was there as a Google Premier Partner Agency. We describe the seminars of special interest below.
The aim of these seminars was to highlight the fact that the cellular phone is a key channel for e-commerce. Issues relating to electronic devices and their application to e-commerce were discussed.
1. SOME INTERESTING INFORMATION THAT WAS DISCUSSED DURING THE INTRODUCTION BY JAVIER SAAVEDRA (MOBILE INITIATIVE LEADER IN SPAIN AND PORTUGAL, GOOGLE).
52% of searches are now made via a Smartphone.
50% of clicks come from a Smartphone.
The CPC of a cellular phone is 41% less than that of a desktop.
13" is the average download time of websites to cellulars.
Conversions in cellulars are 62% less than those of a desktop.
With a download speed of less than 3", the conversion is 1.9%.
With a download speed of 7", the conversion drops to 0.5%.
We all know that the waiting time to load a website can be critical for any e-commerce, as too long a waiting time may mean that the potential client gets tired of waiting and leaves the page without converting. That's why Javier Saavedra commented on some methods to increase download speeds from a website and reduce the risk of escapes.
Short term: optimize images, improve the cache configuration and prioritize visible content.
Mid term: Accelerated Mobile Pages.
Long term: Progressive Web Apps, that combine features of a website with the provisions of a native application, which enable them to function simultaneously as a website and as a mobile application without shedding the operating system..
To conclude the introduction, he highlighted the point that one of every five searches are made via voice browsing, and that this trend is likely to increase. This means that keywords will have to be more literal and Google is already working on the possibility of detecting intentionality.
2. HOW TO IMPROVE DOWNLOADS SPEEDS BY ÁLVARO GÓMEZ (AGENCY DEVELOPMENT MANAGER DE GOOGLE).
In this seminar the speaker amplified on the previously discussed issues by going into greater depth on omnichannels, AMP and PWAs.
Here is some data that can give us an idea of how slow download speeds affect the users of mobile devices:
Slow download speeds are the main problem of a mobile website for 40% of users.
38% of users admit that they have shouted, insulted or thrown their cellular phone after a website didn't load.
53% of users leave a website that takes more than 3" in loading onto a phone.
Nowadays, we find that all kinds of devices play a role in one single shopping process, which may even include a visit to the physical store. For this reason it is recommended to give the same importance to all the channels, and we should not focus exclusively on the website as we have in recent years.
The AMP is a key factor in a discovery phase. We usually see it in digital newspapers or blogs, but companies like Ebay already have thousands of products in this version. It enables a faster experience, allowing the user to pass through the purchase funnel faster. Sooner or later the change will have to be made to the fast version of the website, but if it is just one click from the purchase, there is less risk of escaping.
PWAs focus on converting and securing loyalty. We should mention that one of the key benefits is that they enable e-commerces to be permanently located in the device that is most used every day and this way we can boost by sending notifications, with the added advantage of functioning offline.
3. MOBILE USABILITY AND EXPERIENCE BY OLGA NOZAL (MOBILE UX MANAGER OF GOOGLE)
An piece of data that came up during a talk designed to wake us up and realize the importance of downloading speed of a website is that 79% of users are reluctant to return to a website after a bad experience.
Olga Nozal presented us with some tools to improve download speeds:
Compress all the images without compromising quality.
Upload them as "save for web" for Photoshop .
Optimize the content of the upper half of the website (mainly images), which at the end is the 100% of what is seen in the phone. The fastest way to see how much our website weighs in the cellular is by following the route below: inspect element and select cellular + network + disabled cache + img.
Apply the AMP to the pages: they will go 4 times faster and spend 10 times less in data.
Simplifying your cache, as shown in the image: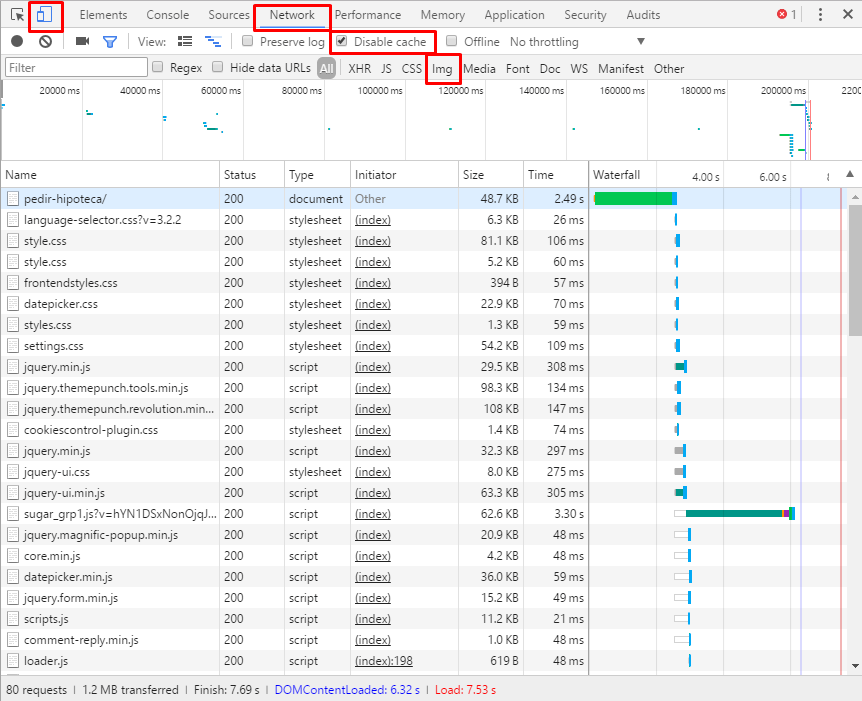 Some data that can help you to know if your website is OK, is to bear in mind that for an ideal website, the download speed should be less than 3", have less than 75 requests and weigh less than 1MB . For a perfect Landing Page, the download speed should be less than 3", with less than 32 requests and a weight below 800Kb. You'll always find this data at the bottom of the image.
4. HOW TO MEASURE AND ATTRIBUTE YOUR CONVERSIONS IN DIFFERENT DEVICES BY ELENA URIBE (ACCOUNT STRATEGIST OF GOOGLE ) AND MARTA ZARATÍN (HIGH-TOUCH ASSOCIATE ACCOUNT STRATEGIST OF GOOGLE).
These two conference speakers decided to give a practical explanation and applied the AdWords tool of the attribution reports described in the other seminars..
They also encouraged us to use them, although they gave the greatest value to the "data-based attribution" report, which is only available in GoogleAnalytics360.
The other reports (first click, last click, linear) lose reliability in multi-device attributions.
To get a better understanding, we saw an example in which a user made a purchase from a desktop although he collected the information beforehand from a cellular on two occasions. This data would not be exactly shown in the reports, but it would in the "data-based" report, which attributes the exact proportion to each device.
5. SUCCESS STORY BY GUILLEM SANZ, CEO OF BEBITUS.
Finally, Guillem Sanz, CEO of bebitus.com described his experience as a success story. Bebitus was established 6 years ago and has a current annual turnover of 35 to 40 million. It's the market leader in Spain and Portugal. Their turnover stagnated for the first time in summer last year. At the same time they saw that their mobile traffic while desktop traffic went down. They felt that they should stoke up the SEM on desktops and Google gave them an opposite viewpoint: The key factor was in improving the mobile version since it was not a good one.
The managed to do it by improving 4 design aspects:
The menu button changed from three horizontal lines to an explicit "MENU".
They changed a slider with 3 messages for one single message with static value. (The change in the slider depends on the user connection, however, the static message does not).
They included CTAs in the banners instead of the typical discounts.
Search bars and contact buttons were included.
And to cap it all, they increased the download speed for the mobile version. Since then they recovered the desired growth in turnover.
CONCLUSIONS
From an agency and from a client perspective, these events are useful because they allow us to see where Google is putting most emphasis. It's vitally important to be constantly informed of the movements that Google makes besides being able to anticipate its movements and to see how the online market is evolving.