Being up to date and finding the best and latest trends in digital marketing tools is important for many companies, as they help us improve the management, planning, dissemination, automation and growth of our business.
At Lifting Group we were born and grew up with the challenge of understanding and mastering the Digital Channel. Our experience, being one of the first digital marketing agencies certified by Google in Spain, has made us one of the partners with the greatest reach that a company can have.
That is why we know first-hand that being up to date and up-to-date with everything that is coming out can be a challenge and a lot of time investment, so below we have compiled those tools that are trending this 2022 and be able to carry the your team's capabilities to the next level.
Below you will be able to discover which Digital Marketing tools are being a trend as well as the most complete ones that exist so far.
1. GTMetrix
A web page that loads in less than 4 seconds is synonymous with a better user experience and a higher ranking in Google, as shown by numerous studies. That is why it is important to have a tool that rates the performance of our web page, and at the same time offers us solutions and recommendations to solve the problems that we may have with the speed of our web page.
GTmetrix It is a tool that allows us to measure the loading speed of the websites we monitor, to rate the performance of the site, offer concrete actions and recommendations to solve possible web speed problems.
Features offered:
Speed indicators report
Tracking with monitoring, graphs and alerts
Test from multiple locations
Mobile speed test
Advanced analysis options
2. Buffer
Another tool that you are going to want to use to improve your digital marketing strategy is Buffer. This tool offers us the possibility of planning and managing the publications of different social networks on the same platform, a very useful tool, especially for the company's Community Managers. Buffer allows you to customize the publication calendar, the time zone, and program the publications according to the type of social network to which they are focused.
The greatest advantage of this platform is the efficiency with which it allows us to manage all the social networks of the company or those of our clients in a single panel, in addition to providing metrics and analysis of the impact obtained from the publications (number of Retweets , likes, mentions, clicks, reach, number of shared content, comments, among other data…). This data will help us make better decisions in the company's future content strategies.
3. Buzzsumo
BuzzsumoIt is an ideal tool to develop the content marketing strategy of your company, since it offers you the possibility of intelligently creating the best content for your blog and social networks.
Why is it a very useful tool for content development?
It allows us to discover what the most shared content is and the trends that are generating the most performance.
Track what brands, competition and backlinks do.
Identify influencers who are positioned at the top of the different industries and which links they have shared.
In this way, Buzzsumo offers us the necessary solutions to guarantee that the content is fresh, generates engagement and is shared by users. Another of its many functions is to help you increase the authority of your website, analyze the backlinks generated and those of the competition in order to improve your position in search engines.
4. Traackr
We continue with another tool that is trending this 2022 in the field of influencer marketing.
We present Traackr, a platform that allows us to identify which Internet users generate comments and content that cause more debate and impact. With this information, companies can identify which people are opinion leaders in different sectors, and thus be able to take advantage of their influence in social media.
Companies can have the information of the influencers, as well as their reach, relevance, resonance, quality and what social networks they are on. The platform is ideal to constantly monitor the impact that the influencer is generating in our audience and therefore obtain real results.
This tool can be very useful to help us choose which influencer is most in line with our brand or with a specific campaign and to be able to reach our target audience in a more direct and transparent way.
5. Unbounce
When we attract traffic to our website, it is very important to know which destination page or landing page our user is going to reach. Normally, these landing pages have the objective of converting the user or the lead, be it with the purchase of a product, a contact form or the download of an ebook.
That is why the creation of the landing Pages has to be careful and worked to avoid the escape of our users. Unbounce is a tool that allows you to create landing pages without having any prior design knowledge. In an intuitive way, your team will be able to modify the elements of the page, generate CTA buttons, insert forms, put images and videos, and among other functions, through Dashboards.
The templates are 100% customizable and adaptable to fit the needs of your company and thus be able to capture the attention of users and increase conversion.
6. Trello
Another of the tools that we want to recommend and that will continue to be a trend is Trello. It is an application that facilitates the management of projects and tasks of the company or personal. It is a collaborative tool that allows, visually through virtual boards, that teams can supervise tasks and manage any project, improving the usual work routines.
With it, we try to improve the work routines of the teams, generating task priorities, times, notices and other functions that allow us to organize a project in which more than one person participates.
What advantages does the application bring?
The application is very simple and intuitive.
Online application.
Free with paid version.
We can have private or public boards.
Secure connection and data confidentiality.
Color labeling that shows us the information in a visual and organized way.
7. Desygner
Desygner is an online image editing tool, perfect for those who don't have much knowledge in graphic design. A very easy to use and intuitive platform that allows users to create and design through templates, from websites, to printed materials (cards, magazines, posters, banners, banners, etc.) and publications for social networks.
What advantages does the application bring?
Very complete free version.
Many templates available to modify.
It offers a bank of millions of royalty-free images and icons.
Collaborative tool.
It has a mobile application.
We can include icons, objects, frames and logos in our designs.
The content can be downloaded in many formats.

Se puede descargar en muchos formatos el contenido.
8. Canva
And last but not least, there is Canva, one of the quintessential graphic design tools and a great ally for day-to-day use. The tool offers thousands of free templates for users to modify or simply design from scratch, adding images, graphic elements, and text. Among the infinite possibilities that Canva offers, one of them is the ease with which the user can design logos, posters, business cards, flyers, SM and/or web covers, among a thousand other options.
In a very short time, Canva has carved a niche for itself within web applications thanks to its ease of use, versatility, and price. It is the graphic design tool designed for "non-designers" with which you obtain fast and attractive solutions within any professional sector. As its slogan says, "Canva is the power of design within everyone's reach".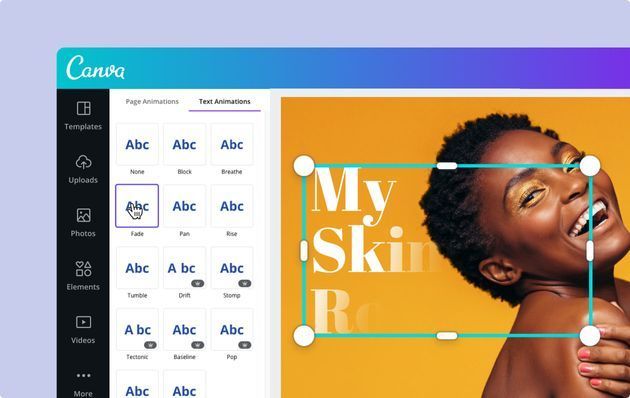 As you have been able to observe, today there are countless tools depending on the sector in which you find yourself, so the most important thing as a company is that you are able to focus on those that are really useful for your business model and help you to achieve the set objectives. In addition to the use of a good digital tool, it is key to have a good Digital Marketing strategy, as experts in Digital Consulting, we can advise you and create the best strategy for you or your company.
Do not miss the next article, where we will detail what tools we use in our day to day at Lifting Group.