When we speak of social media advertising, we are referring specifically to those ads paid for companies and shown not only to their followers on social media, but for which a budget, an audience, and a strategy to reach more users and meet targets set in advance, have been defined carefully. Brands have realised that this is a great way to reach their target audience, and it's cheaper than other paid channels like Google Ads.
The social media plan of a company increasingly allocates more budget to social media advertising campaigns, and a clear advertising strategy will enable you to optimise your budget and your results.
The main platforms we can place social ads on are: Facebook and Instagram, Linkedin, Twitter, and TikTok, but before you define and implement a Social Ads advertising strategy, you have to set the objectives, namely, to know what you want your campaign to achieve. Once the campaign objective has been defined, you can pass to defining the strategy to follow.
Social media advertising strategies in terms of the objectives
Strategy is the key to success in digital marketing, and a good social media advertising strategy can be a decisive factor in whether your brand becomes visible. Recall that users are accustomed to being impacted each day, so you need to use designs that capture attention and adapt the message to each objective.
We offer you below the list of basic strategies you can apply, as driven by the type of objective you are after:
Increase followers:
To increase your followers, it's necessary to have a well-thought-out strategy with a fairly clear Call to Action in your ads, inviting the user to follow you.
It is important to add a button where the user can click and become a follower instantly, such as the "Like" button. In the cases of Facebook or Twitter, luckily, there is already a specific campaign to achieve this, while in Instagram, you can invite the user to visit your profile, and as experts in Social Ads, we recommend that you maintain this properly optimised to encourage the user to follow the account of your business. Another increasingly common strategy to increase the number of social media followers is with raffles, in which the user follows you so as to participate.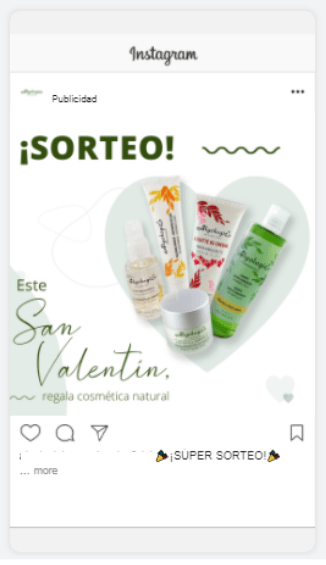 Brand Notoriety:
A well-known brand is more profitable, and for users to recognise you it's very important for you to stand out from the crowd.
Reach plays an important role here, and you can do ad campaigns with stories, but they should be stories that are quick and easy to understand, which users can feel they identify with.
Another strategy recommended for notoriety campaigns is to incorporate influence marketing and collaborate with influencers who would be identified with your brand, and thus reach potential users. Creating relationships with carefully chosen influencers could mean major publicity opportunities for your brand.
Traffic capturing:
The basic and best strategy for generating traffic is via link ads, perhaps because you want to publicise a new product, a promotion, or a service etc.
For this objective, you can set up campaigns of image, sequence or video type and configure them so that the user is carried towards the direction you choose, such as: Clicks on the website, links to other social media such as Instagram, Twitter, or Youtube. One good strategy would be a TikTok video to launch a new product and carry traffic from this powerful network to your eCommerce using a link.
The links can be measured using clicks, with metrics like page views, bounce percentage, CPM, CTR, or time spent on the page. It is very important to carry out an SEO analysis of the site where the user is to be directed to, to ensure that it is optimised and the user experience is satisfactory, because it's a waste of time to attract a lot of traffic to a page that cannot retain the user or produce engagement.
Lead generation:
Here is where forms come into their own, as you can glean data or valuable contact information, such as the email address or telephone number of people interested in your products or services.
One good strategy towards this objective would be to capture leads with traffic campaigns + landing page, as we can see in the image. This will get users to go to your webpage to leave their data, giving you leads of better quality, which you can then pursue with retargeting ads.
Normally, these campaigns take place through an offer or promotion to make users want to leave their data. In other words, you should offer something in exchange, such as: If users complete a form, they can get a discount.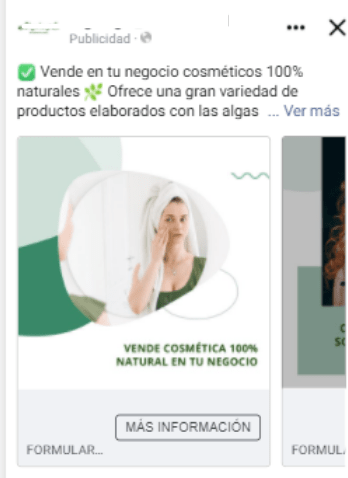 Conversion objectives:
Before talking about the strategy to follow, in the case of this objective, you need a clearly defined idea of what you want the campaign to attain: in other words, set the conversion indicators, whether what you want is for them to make a purchase, a phone call, generate leads, tickets for an event, download a catalogue, etc.
The Call To Action is a basic element that is absolutely essential when planning a campaign with the conversion objective. You should always tell the user what the specific action they need to perform is, such as:
Book
Buy
Ask for appointment
Contact us
Download
How to get there, etc…
Here, it's important that the ads should have a direct link to the product or service you are promoting so that, if for instance you are promoting tickets for a concert, we recommend that when the user clicks they are taken to a platform where they can buy tickets for that specific concert.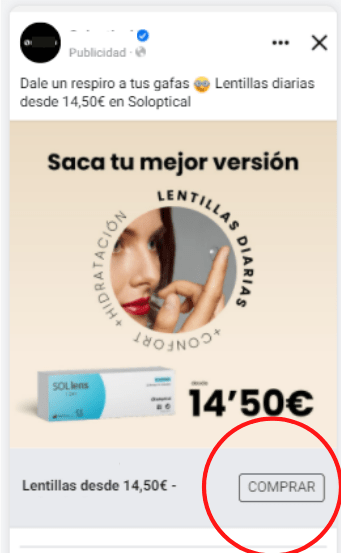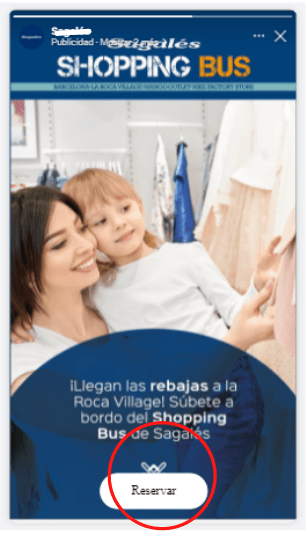 Other strategies to take into account for your campaign to be a success:
Know your target audience:
The key to knowing your target audience is segmentation: you need to divide your campaign into small groups of people with whom you will be more likely to reach the target you set in advance, and the more precise your segmentation, the better the final outcome of your strategy.
In most cases, there are certain characteristics or general profiles you can take into account to help you classify those clients, such as: age, gender, hobbies and interests, location, family circumstances, etc.
Being able to identify who you are going to direct your Social Media advertising campaign towards will let you work on the basis of their tastes and needs, and also help you choose the platform for launching your campaign (Facebook, Instagram, Twitter, Pinterest, Linkedin, TikTok, Youtube, etc.). The objective is not to advertise on all the Social Media, but to choose the ones where you'll find your target audience. This step will also help you to be more empathetic and address your audience more informally. Above all, it will help you direct your campaign towards those persons with whom the action you defined in your objectives is more likely.
Budget control
A strategy for defining the budget is very important, because it is very easy to waste money on advertising, unless you can call on a Paid Media training team who will optimise your resources so you reach as many people as possible and meet the target set.
Modify your ads:
Change your ads frequently and vary segments, designs, formats, etc., so as not to saturate your audience.
Do A/B tests
A/B tests are one of the keys to Social Media advertising. They let you modify and try out different elements within a single campaign to see which works best, and thus decide where to invest your budget.
A/B tests are also ideal for knowing your client and finding out what they like (or don't like). This is the ideal strategy if your main objective is to gain followers, because it will let you discover new niches and profiles with real results: as people do not know they are part of an experiment, their responses will be transparent.
As it is just a test, you can innovate and give your creativity free rein, although always consistent with what it is you offer.
Track your campaigns:
Advertising campaigns do not work on their own and they require constant tracking so you can see which elements work and which need to be modified. This tracking requires you to invest time if you really want to see results.
Conclusion
We can't please everybody in the world: this happens with people, food, and also with brands. Knowing to whom, where and, above all, how to direct your Social Media advertising campaigns is a basic step in the marketing strategy to be applied to all objectives, because if you don't know who you're talking to, it's as if you weren't talking to anyone: it's often underestimated how complex it is to prepare advertising campaigns.
We at Lifting Group have extensive experience of managing social media advertising, and we define and adapt the Social Ads strategy to any sector and scenario, both B2B and B2C, applying permanent engagement, dedication and tracking to all our actions.