What is promised is debt, after detailing in the last article which digital tools are trending this 2022, it is time to detail which ones we use at Lifting Group and which help us to be more efficient and to work in a more organized and agile way. .
Every company requires different digital tools for its proper functioning, development and growth. The choice of which ones to use varies depending on the objectives, needs and other factors of each business. From Lifting Group we want to show which ones we use to reach our clients in a personalized way and continue transforming the industry.
#1. Google Workspace
This is Google's platform for businesses. It allows you to have your own personalized email while using Gmail and all Google Drive's own services, including: presentations, docs, calendar, sheets, meet, classroom, among others.
In our case, starting to use this platform was the best decision, for several reasons:
It allows to store all the information in the new one in a safe way and within the reach of all the teams
Real-time collaboration of the same document by several users
Video calls of more than 100 participants
Security and management controls to minimize risks of cyber attacks
Improve proactivity and collaboration thanks to its endless solutions, available anywhere and from any device
On a communication and storage level, some of the most used tools of the Google Workspace platform are:
Gmail: Tool that can be used both personally and professionally for the management and storage of emails, being one of the most used digital tools.
Google Meet: This is the video conferencing solution integrated within the platform. Basically, this tool allows you to organize brand meetings, virtual training classes, remote interviews and much more.
Google Calendar: It is an agenda and electronic calendar that allows you to synchronize it with your Gmail contacts so that you can connect with them, invite them and share events.
Google Classroom: It is the well-known virtual classroom that Google has designed at an educational level in order to organize and improve internal communication, whether in companies or educational centers. From Lifting Group, the Classroom tool is one of the most used to teach our Academies, which are internal training for our teams.
Drive: a tool that allows you to easily store, synchronize and share files centrally and always accessible.
#2. AWR Cloud
Known as Advanced Web Ranking, it is a tool that allows you to analyze the keywords within a specific project. Additionally, it allows you to observe their evolution and that of the competitors. Analyze on the one hand, the keywords that come to position.
For our teams at the SEO level, this program is essential to know the positioning and evolution of the keywords of our website and to have more information about everything. AWR provides a comprehensive SEO health review designed to track the most important SEO aspects. Auditing allows you to see how visible you are to search engines. It also measures the effectiveness, or otherwise, of your internal and external links.
#3. Ahrefs
To put an end to the analysis tools, Ahrefs is another tool that we use created for the SEO analytics of any web project, made up of a set of functionalities aimed at examining all aspects related to the On/off-page of said sites. Ahrefs has managed to evolve and little by little it has become a quite complete SEO suite, a platform with a wide variety of tools optimized to offer a complete analysis of the website.
We believe that Ahrefs is a tool that, to a large extent, is designed for this, so, with a little ingenuity, you will be able to locate a good number of opportunities both in links, as in niches, as in themes, as in contents.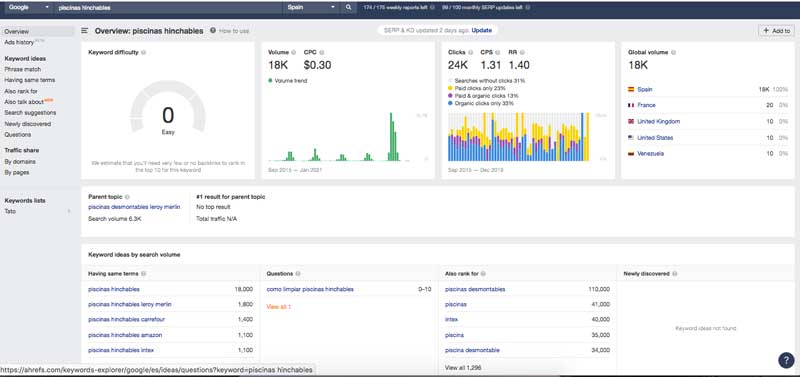 #4. Hootsuite
We are facing a social network management program, which allows our teams to manage our social networks from the same platform. It is one of the most used tools by professionals for managing social network accounts. It allows you to have an overview of all the accounts, as well as how to carry out a total follow-up from the same platform. The interface is simple and very intuitive, in addition to having a very detailed statistics report, facilitating the resolution of results.
For us, hootsuite is the perfect ally to be able to draw up a marketing strategy that allows us to get more followers and at the same time make them fall in love with our products and services and make sales skyrocket using the web as a platform.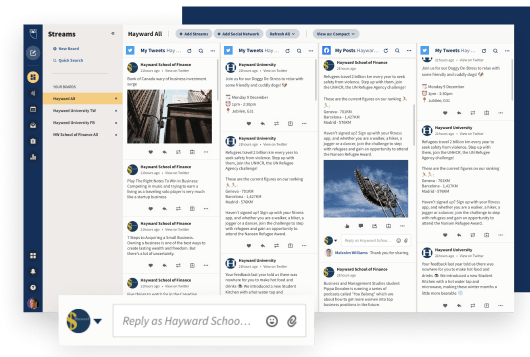 #5. Metricool
Another tool for managing social networks that is key in managing our day-to-day activities is Metricool. This tool allows us to analyze, manage and measure the success of our digital content. It provides everything one needs for social media strategy in one place: web analytics, blog content, metrics, as well as being a planning tool for social media accounts; Twitter, Facebook, Instagram, LinkedIn, etc
For us, in addition to everything that the tool itself allows, what the teams value most is the time savings and the amount of functionalities that it offers when managing all the client accounts in the portfolio.
As you can see, it is a fairly complete tool at a very affordable cost. If you manage one or more accounts on Instagram and need to execute a content plan efficiently, we advise you to try it. It will make your daily management and that of your clients more optimal and agile.
#6. WordPress
At the CMS level we find one of the most used tools on the internet allowing the creation of web pages of any type. It also includes plugins (free and paid) which allow you to expand the services it offers: online store (WooCommerce), chatbot, reservation management, SEO optimization, adaptation to Cookie regulations, uploading videos, security, … And all that without the need have programming knowledge.
The main advantage? With a CMS you do not need a programmer or a custom development to introduce the content, but a content or non-technical profile may be able to write articles or news, insert images, videos, etc. In addition, WordPress is free software so you will not have to pay anything to use it.
At Lifting Group we have the expertise and knowledge of having worked with most technologies on the market in web projects, portals, Ecommerce and web applications, allowing us to choose the technology that best suits the requirements of the digital project. In addition, we do not limit ourselves to implementing the original idea but we contribute our own experience to the project.
#7. Pipedrive
This is our CRM and sales pipeline management tool that helps us in our daily business management and understand how customers and prospects relate to each other. A CRM, as many of us already know, is a computer technology tool that is used to organize and manage a company's contacts. Its main function is to help users centralize all customer information. Thanks to this tool, the teams are able to strengthen the sales force and daily customer service. It automates the follow-up of contact tasks with the same and its purchase process in a clear and simple computer environment, and that gathers all the information we need in the same database.
#8. Mailjet
It is an extremely popular choice among digital marketing tools for email campaigns and is part of our daily management. It is an all-in-one, web-based solution that allows you to send promotional and transactional emails, it also allows you to have real-time control and monitoring thanks to advanced reports and ensure a good delivery rate, since the service chooses the best IP address for your messages.
One of the key factors for us in the implementation of this tool is its A/B tests that allow us to test up to 10 variants of the same email before sending the best one to your contacts.
#9. Redbooth
Many of you will know Trello, which we mentioned earlier as the platform for project and task management. We at Lifting Group are used to the daily use of Redbooth, which, like trello, allows us to manage and control projects and their tasks in a single place.
The simple, web-based collaboration platform helps with task management, enables file sharing and communication, and enhances increased team productivity. For our teams, Redbooth is a tool that scales very well with our workload and allows us to use it at many different levels.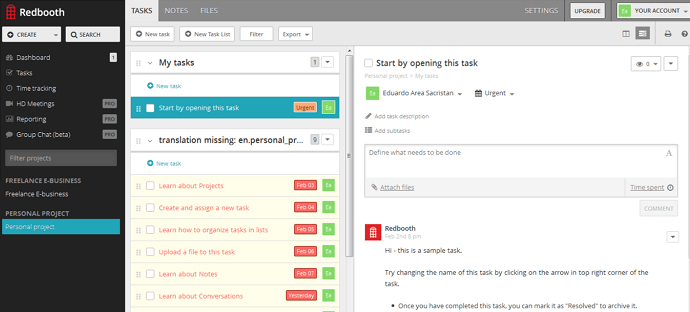 #10. Helium
Helium 10 is one of the most complete platforms aimed at optimizing the management of Amazon accounts, both for the sellers themselves and for specialist marketing agencies in this Marketplace. It is capable of performing powerful product research, as well as delving into future opportunities, demand, competition, SEO analysis, inventory management, among other features.
What does the tool allow you?
Find high competition and low competition product ideas.
Identify opportunities and thus scale faster than your competitors
Optimize listings to appear on the first page and stay there.
Handle refunds
We must mention that this platform comes to integrate more than 13 functionalities whose scope allows fine-tuning strategies that increase sales exponentially.
These 13 functionalities encompass:
Niche selection
Product trend research
Espionage of the competition
Keyword research.
Listing optimization
Refund Management
Inventory protection in FBA
Positioning on Amazon. Fraud prevention
In short, and thanks to the expertise that our teams have on this platform, we consider it to be the best FBA tool to cover the full cycle, from selecting a product, managing your store from scratch, and scaling your FBA operation.
E-commerce in general is growing year after year and Amazon in particular has positioned itself as the undisputed leader in the markets in which it is present, so if you want to start in this Marketplace, this is your opportunity.
In addition to those mentioned in this article, there are many other tools that are part of our daily lives, but taking a look at the trends of this year 2022, we consider that these are the most relevant and well-known on the market.
These are some of the ones that our teams use daily, but that does not mean that they should work in the same way for your business, since each project is totally different, so we recommend that before implementing any of these tools, a capable strategy is established. to determine the next steps and key factors that will help you decide which one will be best suited for your project.
At Lifting Group, as a specialized strategic and digital consultancy, we provide solutions and strategies focused on SMEs and family businesses, where we have the ability and expertise to assess the current situation of the company and implement measures for strategic decision-making.