As we already know, social media has invaded our lives and is here to stay. So no one doubts that LinkedIn is nowadays the best social network for networking and professional contacts. It allows you to find professional opportunities and even connect with clients and companies you admire the most. 
But, do you really know how to achieve great results with your company profile on LinkedIn? In this article, we leave you some key things and tips to bring more visibility to your business and start getting great results.
The first step to get your company seen is to create a page where you show others your brand, products, services and/or job opportunities that your company can offer.
This page will be the visible part of your business. Fill in the fields and update your information. Complete company profiles get almost 30% more views than those that are only half complete.  
Update and make your profile attractive
Your profile picture and page logo are the first images visitors to your page will see. Make sure to add images and graphic materials in line with your company's values and methodology, connecting quickly with the user. To accomplish this task, you can schedule posts on LinkedIn, so that they are published when you decide, even if you are not connected to the network. 
Show the world who you are: your products and services.
Through LinkedIn you can inform about your products and/or services and explain what added value they have for followers. You can even add links that redirect you to specific pages of your corporate website, thus generating more traffic and visits. 
Write content of interest to your audience
LinkedIn stands out from other social networks and platforms because of its focus on targeting the professional and business world. Therefore, it is necessary to publish regularly and, if possible, content of interest to your audience, original and creative (with a professional touch). In this way, by writing original and attractive content in which creativity is visible, you can attract the audience and keep them interested in the content that the company publishes.
But what kind of content can be interesting?
Images: LinkedIn recommends always adding an image in all publications, to create greater engagement with your audience.
Video: Live videos get 24 times more engagement than other types of content. It is important to be creative, but also serious in disseminating your corporate message.
Articles

:

Use LinkedIn's content suggestion tool to find trending topics in your industry or among your audience and post PDFs or PowerPoints of educational and informative content to share with your audience. And if your company has products and/or services, don't forget to publicize this information.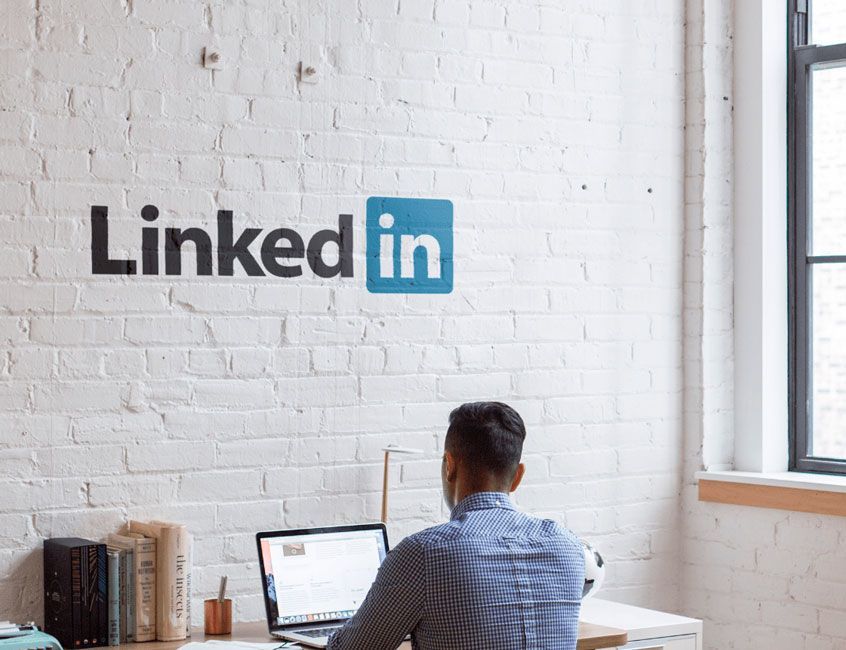 Develop a cross-channel strategy
This is a pretty universal tip in any web marketing strategy. Your LinkedIn professional page or LinkedIn company page should be integrated into your overall content marketing strategy and linked to your other social networks. And vice versa.
YouTube videos shared on LinkedIn are estimated to be very well received by users.
It is estimated that ads on LinkedIn can reach almost 600 million users. Not bad right? Want to know how?
Start by:
Create a Campaign Manager account> Thanks to Campaign Manager, LinkedIn has an all-in-one advertising platform where you can set up ad accounts, run campaigns and control your ad budget.
Determine and define your target> Being clear about your advertising strategy, track record and objectives will help you create an even more personalized and focused ad for your target audience.
Launch your campaign> Thanks to the platform you will be able to create a segmented audience based on your business model, set an advertising budget and upload your creative ad.
Once these steps are done… Your campaign is ready to go live!
Use LinkedIn Analytics tools
Being familiar with LinkedIn's analytics page will help you get a clearer idea of where you are and what engagement you've generated. 
Want to know how to take advantage of this tool? Here's how:
Analyze your data to see not only what content is being interacted with, but also who is interacting with it and in what way, this will help you better see the demographics of your audience and refine your content.

Using content suggestions is a good option if you're looking to measure the popularity of posts and the level of post interaction. 

Add tracking codes to the links in your posts.
Get higher rankings
Just like any other website or social network, LinkedIn company profiles rank on search engine result pages (SERPs).
To boost your SEO make sure your company page includes some of these key points:
Keywords

: essential components to give targeted content on the web. If you are looking to increase the likelihood of people finding your profile, include the relevant keywords. 

Backlinks

: Include the URL of your company's website, include links to other posts you have published and encourage your followers to share your publications. This will generate traffic to your website.

Add hashtags

: you can set up 3 hashtags, useful for SEO and finding related content. 
Transmit business culture
Make sure to include relevant professional information for potential job candidates and include a strong section about the company, to attract talent.
Share content from other users and become a company of reference.
Recommending, sharing or commenting are some of the tricks that also work to generate visibility to your profile. If the comments you generate are valuable, enrich the content or provide good feedback, the chances that they will visit your profile are multiplied. 
Post job offers to attract talent and generate more visibility.
The Internet and social networks are the place and tools with many advantages for both workers and talent search. Specifically Linkedin Companies has a great potential for these objectives, as it favors the increase of brand visibility and also the strategy of attracting employees and business. Currently, this platform is one of the largest recruitment tools, providing recruiters with a large number of updated profiles for potential new hires. This facilitates the recruitment of interesting profiles for each organization, being able to access the updated profile of the potential candidate.
LinkedIn companies have the following significant advantages:
Great reach in terms of customer base, suppliers, employees and competition among others. Facility to generate and develop brand awareness to reach your audience and target audience. 
LinkedIn makes it easy to connect and recruit talent and clients to grow your professional network.
Above all, remember that LinkedIn is a professional network that allows you to build credibility, create a meaningful network and gain experience from established experts in your industry. It is a valuable tool in your social marketing arsenal, so be sure to take advantage of all the opportunities it offers. 
It is also considered to be one of the most effective networks for getting leads and customers in the B2B market, so keeping your company profile active and up-to-date can be the key to increasing qualified traffic and sales opportunities. 
So finally, focus on giving value, focus on helping your target audience through your knowledge and that will make you someone worth reading, following and buying from. 
Do you want to try it?