We at Lifting Group keep ourselves abreast at all times of all the novelties in the digital marketing sector, and therefore our teams undergo constant training. On January 25, some of our people attended Audience Now, by Google.
This training turned out to be very interesting for our team, who have lost no time in sharing it with everyone.
The training was organized into three main blocks: audiences, automation and attribution.
The trends in marketing have changed over recent years, and a major element in the success of digital marketing is that it is highly personalizable. We can segment the messages and match them to each audience. The amount of information we can collect from the different Google tools helps us to know our public better and it is of such value because it tells us what we need to know to adapt our entire business strategy, optimizing it and matching it to those audiences of greatest relevance.
WHY IS IT IMPORTANT TO CONNECT WITH YOUR AUDIENCE AND HOW DO YOU ACHIEVE THIS?
For any business, it's important to know what the target public likes to adapt the product or service to them, and to achieve this, it is important to contact your audience.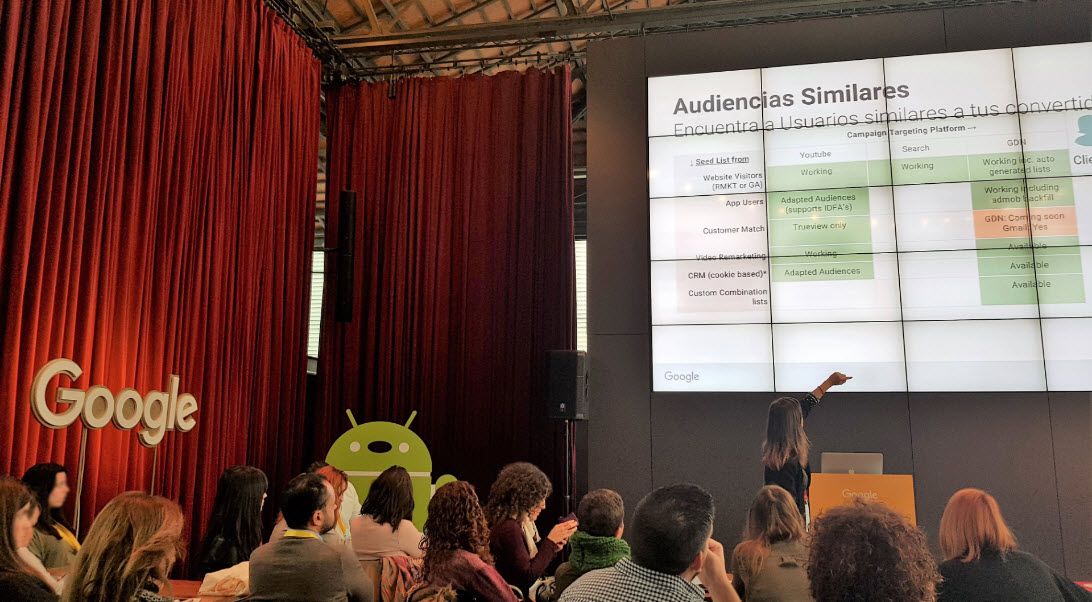 Connecting with your audience means being able to beguile them, and give them the message, the content and the product they desire. It means more than merely capturing clients:  it signifies that in addition to getting them to convert, you must get them to come again, because you will be earning your clients' loyalty.
To connect with your audience better, it seems logical to think that the first thing you must do is get to know them properly: the better you know them, the better you will be able to connect with them and so build up loyalty and conversion. It is important to possess properly structured knowledge of points of great relevance such as their performance and their behavior.
Although these days we are highly conscious of the online channel, we should not forget the offline one. The offline channel is also a source of information: each person entering a shop is a potential client, and knowing what they are looking for, how they got there, and even their tastes, is crucial.
All of us have received standard information from companies. It isn't something that impresses the user and nor does it make them feel special: when the user receives a generic message, they tend not to pay too much attention to it, because they perceive that they're being sold something that isn't exclusive. The same thing happens with the user experience: it is important to adapt it to each public on the basis of their behavior, and this is why knowing your audience well is so important. It is also important to know which device our users access our web with, so we can adapt the formats, both of the web page to the devices, as well as for the display ads: Google Analytics shows us this information.
Finally, it's important to optimize our investment, paying only for the most profitable audiences. It follows, therefore, that it is important to know which segments are the most relevant for you, the ones which are the most profitable for your business.
HOW CAN WE GET TO KNOW OUR AUDIENCE BETTER?
The first thing is to segment our audience or users within the different phases of the conversion funnel.
–New users: Attract new qualified users to our web.
–Website visitors: Reconnect with them using remarketing in search, GDN and Youtube. This is the moment to adapt the message.
–Conversion: Identify signs of value, similarities, intentions or affinities.
The objective is to move the audience from each segment to the next. It is important to establish the KPIs for each segment, this being how we will have to measure, and observe whether the strategy has been successful or must be modified.
The information about our public can be obtained from the website data, CRM insights, In-Store, Social or In- App. The ideal thing is to analyze all the information, whichever channel it comes by, so we can compile a 360º information map.
Using the Google Adwords audience manager, you can get detailed information about the users to understand their composition: for instance, we can view demographic data to see the percentages of men and women, country of origin, age, or parental or marital status
Using the audience reporting panel in Google Analytics, we can learn the performance of our audiences and make comparisons between them to identify the most important ones for our business, and among other functionality, we can see which sector our audience is from or what they're interested in: in short, their tastes. In this way, we get an idea of our buyer as a person.
What happens when we have obtained the information about our public? When we already know our audience in depth, their age range, gender, tastes, the sector they are from, their country, etc., the moment to define a strategy focused on each one of the segments we've just identified has come.
TIP: combine the data from Google with your own data to identify your target public throughout the conversion funnel.
First party data refers to those data which we've obtained from the advertiser's own sources, through the visits to the web. This information is extremely valuable as we have been able to see, and it allows us to fit our actions to our different audiences, giving us the possibility of impacting on them anew through a strategy of retargeting or remarketing.