OTTO Films is an audiovisual producer that was created as a result of the union between the Consultant and Strategy and Marketing Agency  Lifting Group and Ben Mirat Producciones. The synergies between the two companies go back to 2012 when Ben Mirat began to work as a loyal supplier for Lifting Group. OTTO Films' services are not like those of a normal audiovisual producer.
As David Garcia (CEO of Lifting Group) mentions, "we don't want to do everything, but rather do everything that we know how to do perfectly and what we believe is useful for the projection of our clients. The creation of OTTO Films with Ben Mirat Producciones has been a natural and confident project.
We focus on videos for companies, in capsules with techniques like motion graphics, very useful for new mobile applications. "Making Of" projects, where we make an audiovisual of what is not seen at first, this may be an event or the presentation of a product, and since we like adrenaline, we offer live broadcastings for company events, TV programmes or streamings and transmissions.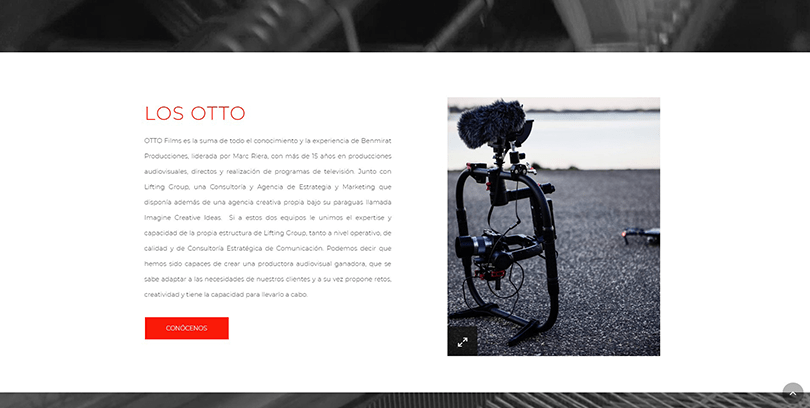 Marc Riera (CEO of Ben Mirat) recognises that "an audiovisual producer cannot go one step further to offer the quality that clients deserve if they do not look for partnerships, that's why since Ben Mirat we have been sure that this relationship would improve the services offered, as well as the innovation of each production." He adds that "we are in a time of change in the information society, therefore we cannot be just producers, we must also take care of the communication of the audiovisual content that we offer, guide our clients so that they have the best profitability."
These services are not chosen at random: The OTTO team has analysed what we can highlight and how we can provide added value based ​​on the experience and capacity of their teams.
Joining forces and with a team behind us leaded by Lifting Group and Ben Mirat Producciones, from OTTO Films we are beginning our adventure with one starting point: non-conformism.