Nutridix is a brand of food supplements that has Italy as its main market. The products of the brand stand out for their excellent formulations, some of them with BIO products, and for the selection of ingredients sourced from the best origins of the world.
In full growth, the company currently offers two products: CÚRCUMA COMPLEX, a turmeric concentrate with ginger and black pepper (whose anti-inflammatory and detox properties are renowned worldwide) and PROBIOTICS COMPLEX, a complex of 10 strains of probiotics needed to maintain an optimal intestinal flora that help to absorb more nutrients and regulate our digestive system, among many other benefits for our body.
The team of Imagine Creative Ideas, Lifting Group's creative agency, defined a proposal for corporate identity, packaging and the website. The website is focused on proposing a clear visual impact to convey all the benefits of the product in an easy way to identify both its ingredients and benefits, as well as the frequent questions that buyers may have with this type of product. Images that reference tranquillity and balance of nature as a metaphorical way of communicating the beneficial effects of the product. In addition, the website includes a section of customer experiences , which situates the product on a plane that is closer to the user, building more trust.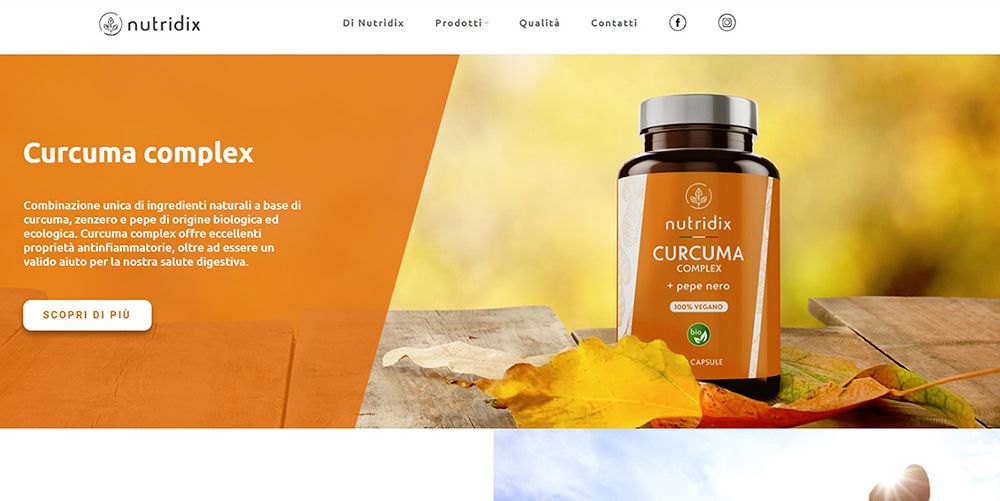 The page is structured in four sections: about the company, the products, their commitment to quality and contact, where the user clearly and specifically finds the necessary information about Nutridix.
Furthermore, the design of the packaging maintains a very natural line, with a bottle of amber and a label with illustrated drawings of the main ingredient, as well as using a diagonal colour tablet that lends dynamism to the design and gives it, together with the typography, the modern touch that situates it as a cutting-edge product.
At Lifting Group, we believe in the importance of taking care of yourself both inside and out, and that is why we encourage you to do so with the best products.