The eShow Barcelona event is the largest e-commerce and digital marketing fair in Spain where key eCommerce leaders at both national and international level meet up, and has welcomed over 12,900 visitors this year.
It is a key exhibition not only for the European e-commerce sector but also for those professionals who seek to expand their brand visibility and increase their competitiveness.
On March 12-13 this year, our  Lifting Group team was able to attend several interesting conferences at the eShow Barcelona that we would like to share with you:
HYPER-PERSONALIZATION: THE PATHWAY TO TRUE CUSTOMER ENGAGEMENT
Adriá Carulla, (Co-founder and CMO for Proforma) and Marc Lladó, (key product manager for Skyscanner) both spoke at this event and gave their own reasons for hyper-personalization.
Before discussing the examples presented by the conference speakers, we need to understand the concepts of personalization and hyper-personalization.
In just 5 years we have gone from thinking about mass communications, i.e. the same message sent out to everyone, to a reality where communications with our clients are personalized in some way or other. We include their names in communications; we personalize some aspects based on their preference;  we focus, in a certain way, on their buying patterns.
But this alone is not enough. Both retailers and brands want to control the full buyer journey and be able to react accordingly depending on what purchase stage the buyer is at. In addition, we want real-time reactions within the  various customer channels, since our potential customers' 'windows of interests' are very small. We must hit the nail on the head straight away, otherwise we'll be out of the game pretty quickly.
Hyper-Personalization is a way to understand if our customer will make a new purchase, reduce the number of customers lost, or even increase their lifetime-value. In short, hyper-personalization is a step beyond personalization, where we know our customer so well that we are able to create a specific proposal for each and every one of them.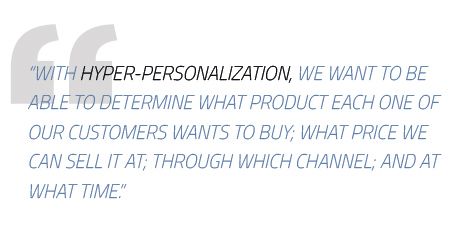 A kind of strategic marketing plan tailored to each of our customers that adapts in real time.
Once these concepts are defined, we will explain in more detail what the speakers talked about during the conference.
First of all, we have to understand where our user is at, in order to be able to adapt that message to them. As far as companies with huge product catalogues are concerned, the user can become overwhelmed, and not really find what they are looking  for.
For this, we will have to classify our buyers, analyze the customer journey and adapt their product to message level so that they have the best possible experience with our service.
–  PROMOFARMA – Positive example of journey automation:
Promofarma's new personalization strategy with CRM is based on moving from 1 email per day to 1 much more personalized  email per week / month which automates the consumer journey (with about 150 automations).
Why?
We know the duration of our product (e.g. hair shampoo), so we know when our consumer will approximately be finished with it. That way, we can send you more personalized emails reminding you that your product is running out and that you should buy again. At the same time, we will make it easier for you to buy that product again with just a simple click.
PROMOFARMA doubled sales by sending out half as many emails.
– NETFLIX – Negative example of hyper personalization:
The problem discussed here was that, if we overlook hyper-personalization, we could potentially omit or stop taking other contexts into account with regards to retargeting (i.e. when you have seen a Drama genre movie, you will only be recommended other Drama shows and movies).
We will need to filter all the information on the surroundings and situation. And we won't need to overload the user so that they feel cornered. When we personalize the consumer journey, it will be to provide value to our user by previously understanding all the points of contact and generating content to be displayed at each point.
AMAZON – HOW DO YOU MAKE AN IMPACT IN THE BIGGEST OF MARKETPLACES?
Whilst highlighting the relevance of marketplaces as distribution channels, Amazon, a recognised marketplace giant, can be found at the very top of the list.
Before going into detail of the exposed factors, it is important to define the meaning of marketplace: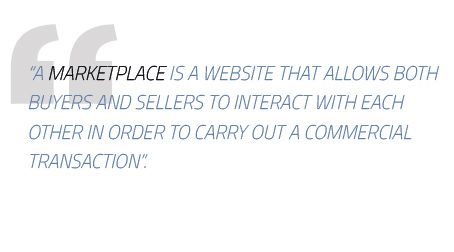 THE POSITIONING: MAKE YOUR PRODUCTS SEEN

So that consumers can choose your products, they need to first know that they are exist, either by being organically well-positioned in rankings using Amazon advertising, or with the combination of paid media and organic positioning.

Direct factors that influence the organic positioning:
– Text matching
– Price
– Stock availability
– Sales history
– Type of fulfilment
Indirect factors that influence organic positioning:
– Images
– Reviews
– Answers to questions
– Conversion of page views to sales
– Time spent and bounce rate
– Amazon's exit rate
– Incidents
– Packaging reviews

PRODUCT PAGE ELEMENTS:
Direct factors: Brand title, product features, product description and product details.
Remember that Keyword Research plays a fundamental role in positioning the products in Amazon's rankings and the type of seller model is also of interest.
Indirect factors: Images, linked products, answers to questions and opinions.

HOW DO SMALL BUSINESSES DO IT?
By taking care with KEYWORD RESEARCH!
– Know the market trends
– Select and / or adapt your product
– Use the Marketplace as a platform to test the products without having to make large investments
Working very well on the direct and indirect factors:
– Optimizing product listings
– Managing the prices as a seller: presenting a minimum retail price during the launch that increases as soon as the Volume of Reviews have generated enough buyer confidence to support greater price elasticity. The volume of reviews is achieved by the product's 'surprise effect'.
– Testing the FBA and FBM models.
– Paying attention to Amazon Choice: this is equal to the sum of the speed of sale and reviews.
HOW DO BRANDS DO IT?
Through product pages that are not organically positioned or heavily optimized. They tend to show interesting details, such as promotions, product variants or A + Content, but at the expense of other important details for positioning such as images, bullet points or product descriptions.
How do they get sales doing it that way? Because they compensate with paid positioning. The Paid option can also be interesting to reach buyers, especially with those who boast considerable brand size. They can use features such as Sponsored Products, Sponsored Brands, Brand Stores or Display.
BRAND SCENARIOS:
With regards to Keyword Research, the bigger brands often face different scenarios than the smaller ones.
They become aware of market trends through other channels or market studies
They have little adaptation of the product catalogue to this channel.
They use the marketplace as just another channel, and not as the main one.As for the other direct and indirect factors, the situation is also different:
They replace elements such as text matching or images by positioning based on Paid.
Some brands opt for the Vendor model and / or the FBA model. In this way, they have less selection in terms of their product catalogue, since the brand is conditional on the products that Amazon is most interested in.
With the Vendor model, it is not them who control the RRP, but it is Amazon who determines it downwards. Brands control promotions, but this model has a smaller unit margin and a 'Paid' model with lower ROI can be seen.
With the Vendor model, they do achieve a large volume of sales, but they are not maximized because it is a sought-after product; they do not get many opinions because the product is already known to be sold via other channels and is not adapted to generate any kind of 'surprise effect'.
BRAND SIZE MATTERS:
• Keyword Research to test the market.
• The product pages must be well optimized across all areas: title, bullet points, description, hidden keywords, categories, fields, images and linked products.
• Buyers are the "boss" and adapt the product to their needs.
So, what must brands improve on?
They must have presence in this channel.
They should reflect on the profitability of the Vendor model in the short and long term and assess the possibility of complementing the channel with the FBA model.
It is essential to improve product pages, not only in terms of organic positioning, but also to gain the buyers' trust and confidence.
It is important that they adapt the product to the channel.
They can use the channel to learn about market trends and test the market.