Our digital marketing actions as a brand must always be devised with the idea that they must help us reach our objectives. The road travelled from starting the action until we reap the rewards is very long, and diversions are always possible. Therefore, we need to use the best digital marketing tools to help with the measurement and analysis work fundamental for any marketing action undertaken.
Within digital marketing, we can measure actions in different channels (organic, social, referral, etc.), and given our expertise, we know why using these tools is necessary.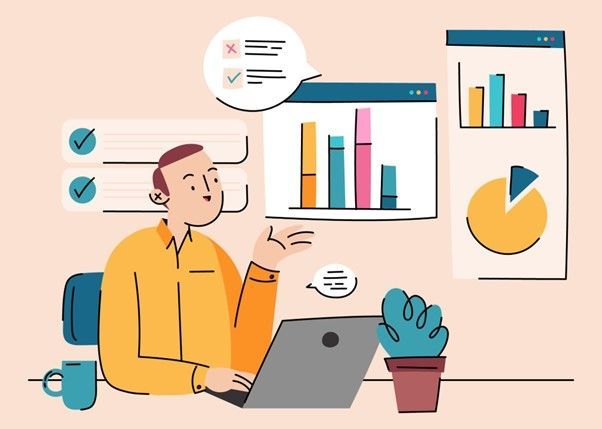 Why we should use a digital marketing tool for the crucial organic channel
The organic channel may be the most important channel for any inbound strategy. It has a very high ROI as we do not have to pay Google to position us. However, this requires very long-term work, as it takes ages to reach the top positions. With this channel, we can see where the importance of having the best digital marketing tools lies.
This channel lets us work on different keywords which would be used in each of the inbound phases: informational keywords, from the attraction phase; transactional ones, more oriented towards the conversion phase, etc.
We endeavour to appear organically in Google using search terms or keywords relating to our business. As we've said, measurement is always a fundamental part. But it must be said that in the organic case, this question is even more imperative. As organic results are observed after several weeks (or even months) have passed, without a tool to help us measure our work during the process, we would be working completely in the dark.
A good SEO tool allows us to find out how our words vary in the Google SERP, each day and in different languages, and with different devices (mobile, desktop or tablet). We'll discover the total visibility percentage of our keywords by position (Top 1, Top 3, Top 5, etc.).
One of the strongest arguments for including a tool like this in our inbound marketing strategy is: it lets us analyse our competition. We can measure and track the market share of our brand and compare it with how our competitors are doing. Not all tools include this functionality, but this can be a point in its favour in more ambitious projects.
Digital marketing tools indispensable day to day
This is probably the most important tool we can use, as it offers a vast amount of information about our website. It helps us visualise the whole process and inbound journey of our consumers, using metrics: through which channel they enter our web, how many times, to see whether we have a recurrent audience (who come back). It offers us information vital to keeping our strategy on track. The most important thing is that this tool is completely free.
This is one of the most important tools for analysing our keywords. It lets us discover the visibility of the keywords we are working on to enhance our web's visibility in the organic channel. See how visible we are in comparison with our competitors, how our keywords evolve week after week, etc. This is really a very complete tool we ought to consider.
This application lets us configure (or even automate) mailings to our client database. We can design the newsletters, automate the sending of different ones over several days (for example, if our objective is to accompany our users during their purchase and after-sales journey). It's true that there are many tools similar to this, but its main advantage is the charging, based on the number of mailings we send, while for other tools like Mailchimp, the charge is for the number of subscribers in the database. It also has a free plan. This is ideal if we are starting out.
This lets us handle, and most importantly, automate, management of our social media. If we are in the planning phase of a campaign (such as for Christmas), we can assess and define the journey we offer the client to buy our products and/or services, and plan the content we would like them to find in our social media while the campaign is active. It also offers us some interesting integration possibilities with other tools, which could mean very significant added value to consider.
This tool will help us to create personalised and automated reports, and we can include the KPIs we consider it appropriate to analyse and track throughout the time our inbound strategy is under way. It is possible that we want to do tracking and see indicators about sales, follower numbers, traffic, and so on, at a glance. Moreover, its main advantage is that we can integrate other tools or applications like some of those mentioned: Google Analytics, AWR Cloud or Metricool.
This is a tool more closely linked to productivity than inbound actions proper, but should we not be productive in our actions? Of course. This tool lets us manage projects, assign tasks to colleagues, schedule our actions, share files, or even communicate by videoconference. All of this is with strong encryption. It's the perfect tool for controlling and organising all the actions we are working on within our inbound strategy.
Be efficient (and measure our efficiency) thanks to our digital marketing tools
As marketing experts, we are aware of the importance of squeezing the most out of each resource we invest in our actions.
Using software to perform marketing actions and get results automatically is one of the ways to be efficient in the digital world. Therefore, any brand can undertake processes that would be difficult to implement naturally. In addition, automation enables tracking and offers better monitoring of the situation.
By enhancing the efficiency of these processes, we reduce costs and staff time, as the correct lead is reached at the right moment, and with the perfect material to convert them.
We should surround ourselves with marketing tools and applications that help us become more efficient, and measure whether we are really working efficiently, or are perhaps getting to a point where we start to waste our resources. Tools like Google Analytics, Google Ads, Ahrefs, Marketing Automation… These will be very helpful for knowing how well optimised our work is, and how efficient we are being in implementing and executing our actions.
The choice of our digital marketing tools is synonymous with the profitability of our results
 Keep the objectives you've set yourself clear, and then choose the tools or applications that best fit your needs. Taking this decision is not a question of money. In other words, we aren't going to get better results just because we choose the most expensive version on the market.
The profitability of our results depends on a lot of factors, but one of these is certainly the choice of our tools. It is very easy to make the mistake of choosing the most powerful application on the market, in its most professional (and therefore, most expensive) version. Our idea is that we want the very best, which does everything, but this might be overkill.
How do we integrate business intelligence at Lifting Group?
There are plenty of tools that can help us but we at Lifting Group, in view of our expertise and the 15 years we have spent as a strategic partner for many companies, have learned that we should surround ourselves with tools our work can deploy to automate measurement processes for large amounts of information.
We try to do better each day, and this also implies improving how we work. Over time, we have learned how to integrate new digital marketing technologies and tools into the strategy and actions we offer our clients.