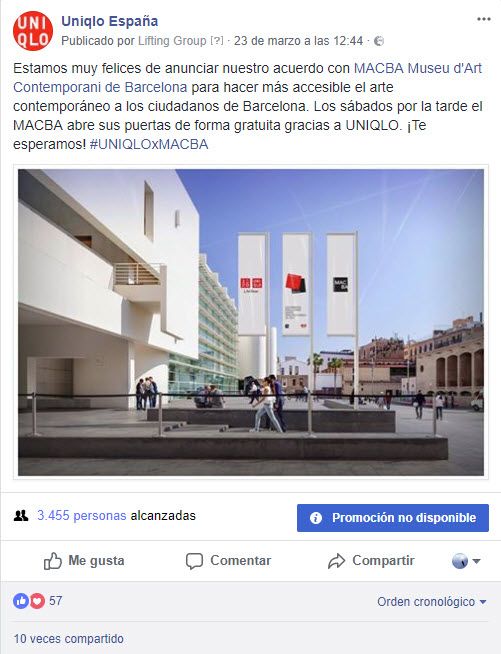 Uniqlo, the most successful and most widely consumed fashion label in Asia and one of the most respected ones in the European market, renews its commitment to Lifting Group
to continue boosting communication via its social networks in Spain, as it has been doing since the brand was introduced into the national retail market. Since September last year, our Social Media team specialising in fashion, lifestyle and new trends has been developing the social media agency service for the brand in order to transmit the all the values, products and latest news about Uniqlo to the digital consumer.
After a successful promotion campaign for the opening of the first store in Passeig de Gràcia (Sept. 2017), we at Lifting Group have been applying the latest trends in terms of typology of formats to offer users diverse, entertaining and above all reachable contents, with which we have been able to transmit in a fun way the essential idea of Life Wear, which is a basic foundation of the brand and above all a differential value that makes Uniqlo the top brand it is today.
Beside the work of introducing the label in Spain, via the social networks with the first opening, we at Lifting Group have worked creatively on promoting and covering the second store in C.C. Glòries, Barcelona, different capsule presentations of launches in physical events, crossed with the digital channel (like UniqloXJWAnderson,
UniqloXInesdelaFressange…) and different influencer marketing campaigns, with which we have been able to bring the label closer to the new consumer and provide it with a human and local character.
At Lifting Group, we are very happy to be able to continue sponsoring the best Social Media strategies, weaving the most effective communication from the brand and above all, cement a strong and long-lasting relationship between ourselves, Uniqlo and the end client.