Web positioning is essential in order to generate traffic to any page or website that we are working with and whose visibility we want to heighten. At Lifting Group it is very present in our services, and we believe that it is essential to lead our clients' websites to succeed and grow.
One of the simplest ways to know if a domain is being indexed is to write "site:domain" in the search box. When we do this we will be presented with a number of indexed pages as can be seen in the following photo: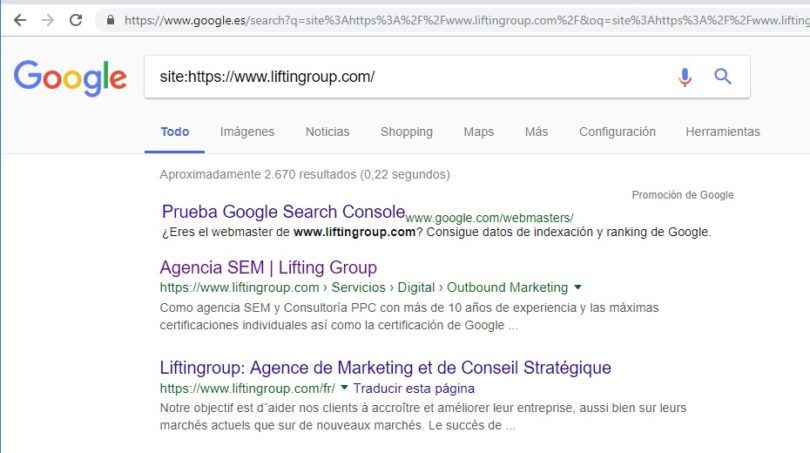 Before starting, it is important to understand the difference between indexing and positioning. On one hand, indexing is the fact that Google shows a page in its results after a search is carried out with a specific keyword. On the other hand, positioning refers to the place in the ranking of results in which Google shows one specific page for a particular search. The optimum is to be among the first positions, which means that our page is found on the first page of results..
HOW DOES GOOGLE WORK TO INDEX A PAGE?
Achieving that an entire website or a page is indexed can take a few days or weeks given that it depends on how often the Google robot crawls the site. To try to increase the frequency there are various actions that we can carry out, such as:
Improve the website's speed
Reduce crawl errors (Google Search Console)
Send a sitemap to Google through Search Console.
Generate content regularly: Optimise current pages, write new articles, etc.
Obtain quality external links that list our website to generate more command
It is important to remember that a page that was uploaded a while ago will have received more views and will have more links (internal and external) that list it, therefore, Google will consider it to be more important and it will be easier for the old page to appear than the new page.
BUT, HAVE YOU THOUGHT ABOUT HOW GOOGLE WORKS WHEN IT BEGINS TO PROCESS A WEBSITE?
It detects that there is a new website to be processed, whether that is because we have just published it or because we force the processing via Search Console by adding the specific URL's.
It reads and processes the content one by one, starting with the index (it is here where the sitemap gains importance), and establishes the keywords and images that define our website.
It analyses and understands different factors regarding our website, such as the links listed in it, the command of said links, duplicated content…
MY WEBSITE DOES NOT APPEAR ON GOOGLE, WHAT CAN I DO?
Despite having thought about various different considerations, it is possible that Google will not have indexed the website. Normally, the reasons for this are as follows:
The internal link is not correct
Google has not processed the web since it has been uploaded, so it has not been indexed
Google has been unable to process the website for a particular reason
The site design is not optimum and this makes it difficult for Google to carry out efficient processing
Make sure that the sitemap is uploaded correctly and is linked from the robots.txt document
In the event of this, Google offers a series of guidelines. These do not guarantee that if they are followed the desired pages will be indexed, but it does make it more probable that it will be done.
Moreover, through the Google Search Console tool content in the search engine can be directly indexed and de-indexed.
It is important to have this information at hand and bear it in mind so that, at least, Google considers us during website processing and we have the possibility of appearing in its search list. Even then, it is also true that this does not guarantee a good position in the results. As Frank Ocean once said: Work hard in silence let your success be your noise"