Mabello is one of the leading companies in our country in the production of marble pieces for decoration and construction as well as other fine stone, and since 1966 they have offered a service of the highest quality as both a supplier of B2C and B2B projects of interior design, restoration, accessories and masonry, to name but a few.
Imagine Creative Ideas, the Lifting Group design team, carried out a complete redesign of the website after a thorough analysis. The said campaign aims to renew it completely with the objective of conveying the craftsmanship and know-how of the Mármoles Mabello team, as well as their ability to work with all kinds of marble and fine stone such as Onyx, granite, etc. As well as redesigning the website, we have also worked to improve the photographs and images of projects, materials, etc. to make this capability of the company much more visual. The content is reorganised to accompany a series of images of the product of minimalist aesthetics, in line with the new image and always optimised to improve  SEO positioning.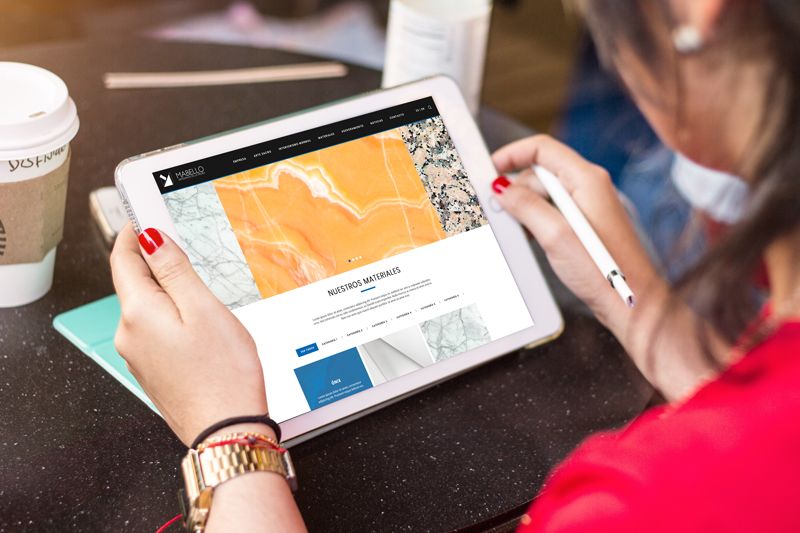 The implementation of a more visible contact form, as well as accentuating the options of "know more" and "download catalogue" add an interaction value with the customer that places the brand as a transparent and friendly company that can be trusted. The creation of a blog allows the recurring customer to keep up to date with the latest news about the company, and the potential customer to obtain information that may be important when deciding on the company. The use of black as a complementary colour suggests the quality and elegance characteristic of Mabello marbles. In short, a work that includes different sections to achieve a more than satisfactory user experience.
At Lifting Group, we once again express our thanks for the trust placed in our team, to which we respond with the professionalism that characterises us.