Bartalent Lab, is an initiative created by Coca-Cola European Partners (CCEP) with the aim of becoming the tool that drives and helps professionals in the hotel and catering sector to grow. Created in 2016 and after a remarkable evolution with more than 14,000 registered in the hotel and catering sector, Bartalent Lab offers contents aimed at room and bar professionals, owners and students All of them, focused on inspiring and helping their members to improve as professionals in the hotel and catering industry; one of the most dynamic and important sectors of the Spanish economy.
At Lifting Group following a usability audit, UX, and carefully analysing the evolution of the contents, sections and user interaction. We set out to boost the visibility of the broad range of categories and themes of the contents as well as redefining the mobile experience. As this is a digital platform with a regular content generation in both written and video formats, it was important to promote the possibility of following threads of contents and the organisation of the themes The new page is structured into six main categories with the information that the type of user (waiters and staff related to the world of hotel and catering) find necessary: training, advice, interviews, news … in order to streamline the interaction with the page and access to relevant content: The corresponding subcategories (as a drop-down menu) are placed aligned in its header, in sub-menu mode. An easy way to gain access to what the customer is looking for, or to classify the information if it is not such a direct search.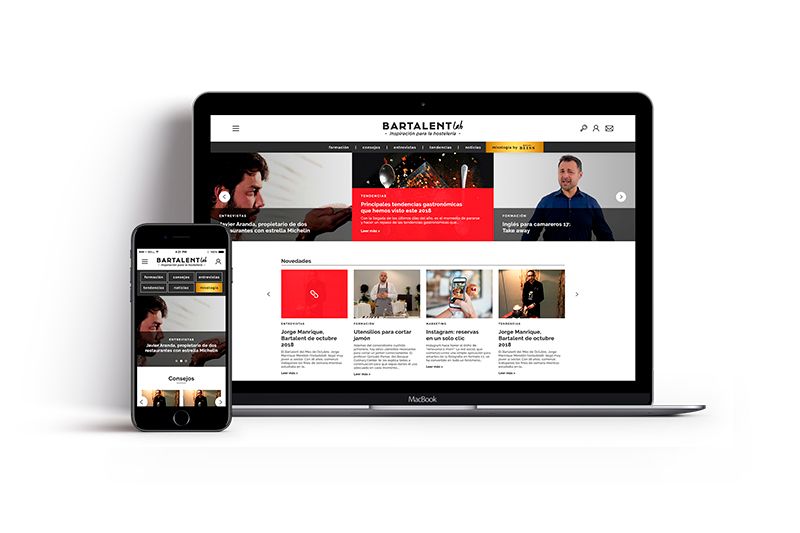 The updated Mixology section by Royal Bliss also stands out, where its own style has been applied to give a greater weight to the relationship of the Royal Bliss brand with the Bartalent Lab platform, as well as an independent category structure since we also want to enhance the training and practical use of the Bartalent Lab platform. In the case of the mixology section we also seek to bring the brand that sponsors the section, its range of products and also the professionals behind it, The Crew, who are some of the best mixologists and bartenders on the Spanish scene.
At Lifting Group we are very happy to be able to participate and promote the dreams of those people who know what their passions are and decide to bet on them as much as possible, as well as being able to collaborate with a brand as prestigious as CCEP. A toast to that!