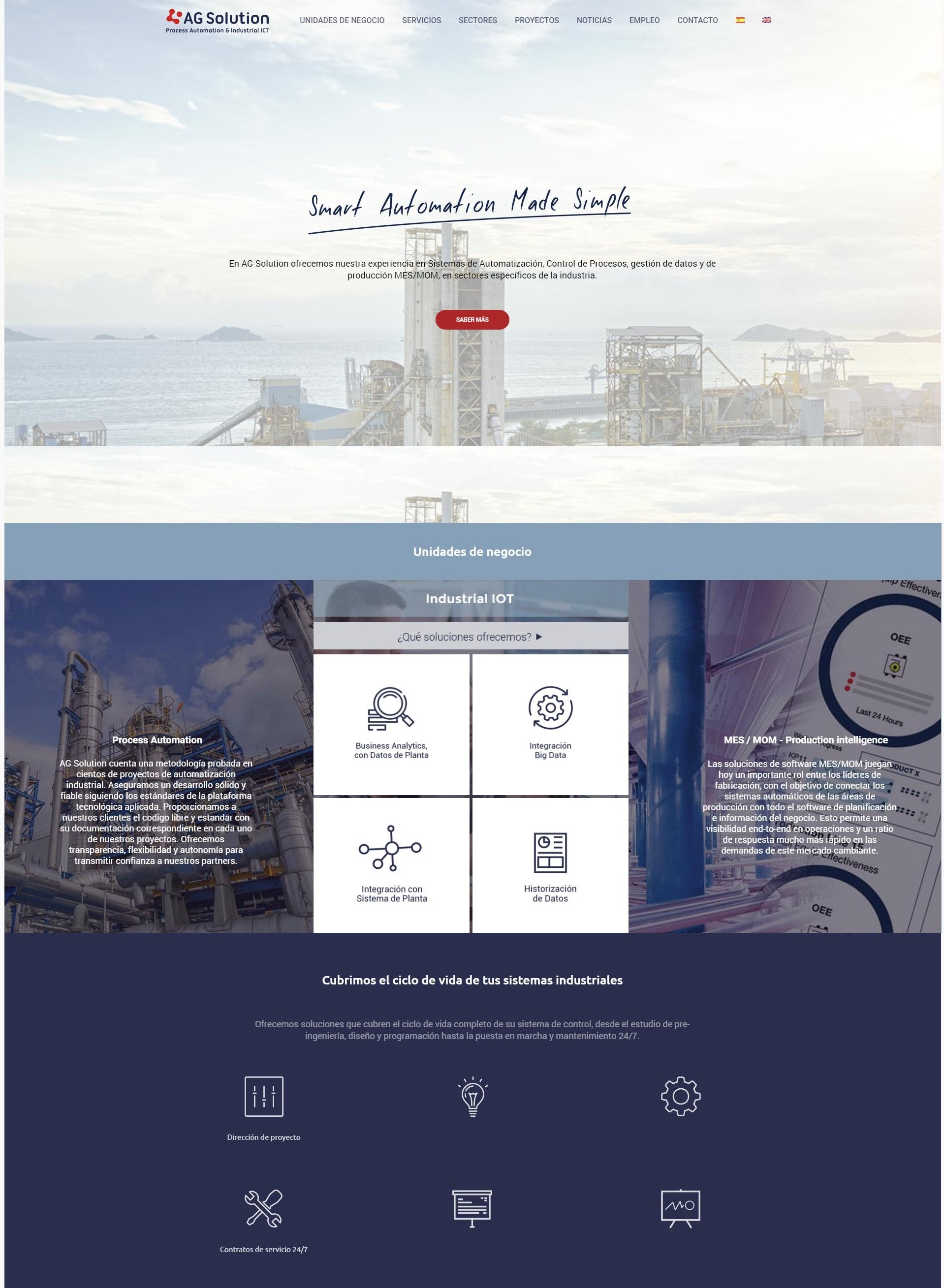 AG solution is an international company with offices in different countries and projects in over 60 markets. AG Solution specialises in systems of automation, process control, data management and MES/MOM production management. It also has successful projects for the pharmaceutical, chemical, food and drinks industry sectors, for bulk storage of products, water treatment, waste treatment and energy efficiency. They are recognised amongst their clients for offering a global high quality service that covers the entire life cycle of the automation process for one or more production units.
AG Solution offers six interrelated services:
Project management
Solution analysis and design
Project development
Auditing/Assessment of risks
24/7 service contracts
Training
THE LIFTING GROUP TEAM DESIGNS AND DEVELOPS A HIGHLY VISUAL AND ATTRACTIVE WEB PAGE. WITH THE AIM OF TRANSMITTING VALUE SUCH AS THE SERVICES AND SCOPE OF AG SOLUTION, ONE OF THE WORLD LEADERS IN SMART AUTOMATION.
AG Solution, sought to project a presence on the digital channels in accordance with its values and scope, making its positioning clear as a world leader in automation systems. That is why the marketing outsourcing team of Lifting Group began to work on a briefing where the UX Web Design &  team could make a proposal that matched objectives. After joint work with AG Solution and a number of different proposals for navigation structures, the basis on which the rest of the project would be developed was defined.  Faced with the challenge of attracting the user to navigate through the website and get a better idea of the expertise and scope of the AG Solution team, a highly visual page was made that helps to project the dynamism and potential of AG Solution as a company that attracts talent since it is constantly growing.
At Lifting Group we love it when a client shows us their trust in our know how and expertise. In the case of AG Solution, with the preparation of this magnificent web page, which will definitely take them one step further in achieving their objectives.