It is more and more habitual for brands to opt for advertising on platforms like Instagram, Twitter, Linkedin, Facebook, Youtube or TikTok as a way of promoting themselves. These social networks let companies connect better with their potential customers, offering businesses greater reach with a smaller investment.
However, it must be emphasised that this "virality" is not achieved overnight, and it requires a strategy to be devised that matches needs and objectives defined in advance.
But which kinds of actions let you obtain likes, raise engagement and finally get a loyal community? In this post on our blog, we offer you tips for averting the 5 most common errors when publishing content on social networks.
The 5 most common errors on social networds
1. Not adapting your content to each network
It is important to highlight that each social network has its own identity, communication code and audience. Because of this, it is essential for brands to be well aware of their business objectives and recognise which platform is most akin to their brand and clientele when advertising.
Do you want to show your products? Go for Instagram.
Do you prefer to improve your corporate image? Choose Linkedin.
Do you need to know what customers think of your brand? Opt for Twitter.
Ask yourself what your true objectives are and design a social networks plan consistent with them. Avoid replicating contents on more than one social network and harness the multiple opportunities the different channels afford you:
Instagram: We at Lifting Group work frequently on the Instagram channel when publicising the products of the brands we work for. This social network is highly visual, and therefore it represents the perfect opportunity for brands to communicate their new launches, offers or product benefits.
Instagram profile of @nutridix_italia
Linkedin: This platform is of a much more corporate nature and its communication is rather more "professionalised". The aim of Linkedin is not to get sales, but rather to improve the reputation of your brand with potential collaborators, professionals of the sector or B2B clients. It is fundamental for you to bear in mind that your Linkedin contents are a letter of presentation for your company and therefore, it is indispensable that your profile should reflect who you and your team are, how you work and what makes you stand out from your competitors.
In our Linkedin profile, you can find some examples of content types that usually work on this platform: inspiring quotes from our colleagues at Lifting Group, information about new services or our new clients, CSR actions we carry out, team-building and internal training.
Linkedin profile of @LiftingGroup
Twitter: This social network, which is never far from controversy, shares one of its principal objectives with Linkedin: improving brand reputations. Nevertheless, there is an important difference, which is that Twitter is directed at the B2C customer, furnishing them with the information they need to engage or purchase your service or product. For Twitter, it is fundamental to have an attentive customer service and deal with the queries or suggestions users may have about your company.
One example of agile communication in relation to monitoring and resolving incidents, which we at Lifting Group work on, is the service we provide to the bus company Sagalés, whose different accounts are monitored by us each day.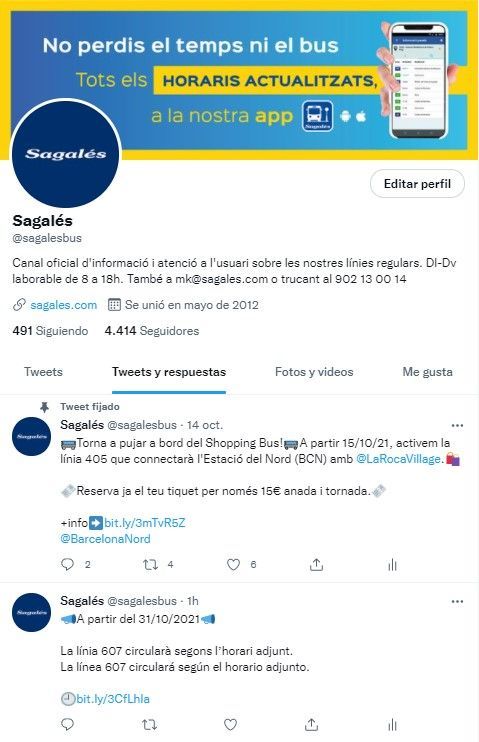 Twitter profile of @Sagalés
2. Forgetting who your target public are
You must have heard of concepts like tone or communication style. Taking them into account is key to getting successful results. We at Lifting Group encourage you to study your audience: analyse how they communicate, what accounts they follow and which platforms they use. Immerse yourself in information and direct your communication with focus.
But, remember! A brand may have more than one target audience. This can be a challenge, but also a great opportunity for your company. Prioritise quality over quality in relation to content and choose well which platform to use to attack each of those audiences.
To illustrate this, we present relevant data about the audiences of some of the main social networks:
Facebook
Although you might not think so, Facebook remains the social network which gets the most leads. This is due above all to two factors:
The audience: Facebook has a special impact among the public aged 40 to 55, which is currently the segment with the greatest purchasing power, and therefore it buys more. Nevertheless, it must be said that this platform is used by people of all ages, and has a fairly uniform age distribution.
Purchase link: unlike other social networks, Facebook lets you share your content and link it to the landing so that your customer can make their purchase. This opportunity, which social networks like Instagram only have through stories with a large number of followers, is more democratic on Facebook and facilitates making sales.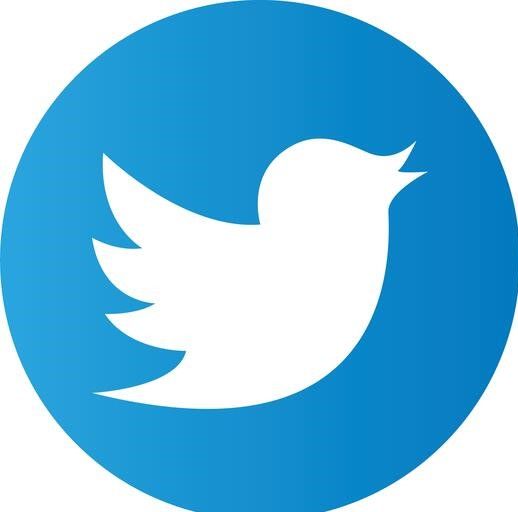 Twitter
The profile of the tweeter in this country is: aged 24 to 65, university education and high purchasing power. They are characterised particularly by valuing the possibility of conversing and interacting with the different profiles present on the platform. The user of this platform has one very specific characteristic, which is that they are very critical, and will make their opinion of the product or service known publicly, both for good and for ill.
Instagram
Instagram is definitely one of the principal social networks for young people aged 18 to 25. This platform is booming and it becoming the brands' favourite, as it lets them share their content in a highly visual way, by applying a large number of different formats: photos, reels, stories, guides and IGTV. It is important to mention that this possibility is not limited solely to the profile of the brand itself, as normally followers and collaborators also publish their new acquisitions using stories or posts. With regard to the kind of users, the great majority are girls, and it is very common for them to share their habits and day-to-day routine on this platform.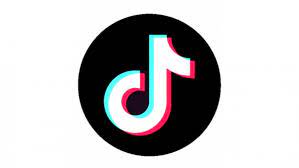 Tiktok
If there is one social network that has really aroused interest over the last two years, it is Tiktok. This platform, especially popular with users from 16 to 24 years old, has revolutionised the internet, reinventing the way in which brands currently sell on social networks. On this platform, the content really is varied and if there's one thing its users avail of it for it's for its excellent algorithm, which discovers your tastes rapidly and offers you addictive content you won't be able to take your eyes off.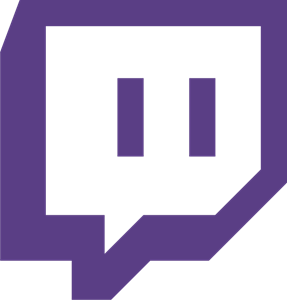 Twitch
Something similar to the Tiktok phenomenon has happened with Twitch. Although in its origins, this platform was directed at the world of gamers, ,it is becoming more and more of a mainstream social network, so that you can now find a great variety of contents.
3. Not encouraging interaction
When devising a strategy for these platforms, you should ask yourself the following: What makes social networks different from other forms of advertising? Why are these kinds of platforms so successful? The answer is clear: interaction.
Social networks allow users to ask and brands to respond. Therefore, it is indispensable to make the most of this. Platforms like Instagram offer proposals which champion these kinds of contents: surveys, open questions, questionnaires, lives, raffles, reviews… Don't forget to be alert to these novelties at all times!
We present below some examples of the interactive formats we usually use: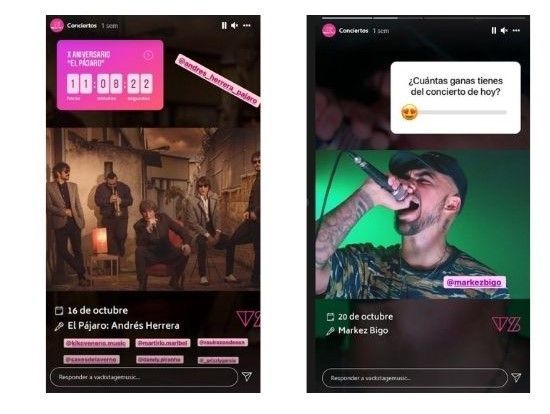 Instagram profile of @vackstagemusic
For one of our most recent clients, Vackstage, before each concert we launch a countdown labelling the artists who are going to perform. Normally this story is also shared by the artists themselves, thus arousing the interest of all those users who want to buy the latest tickets.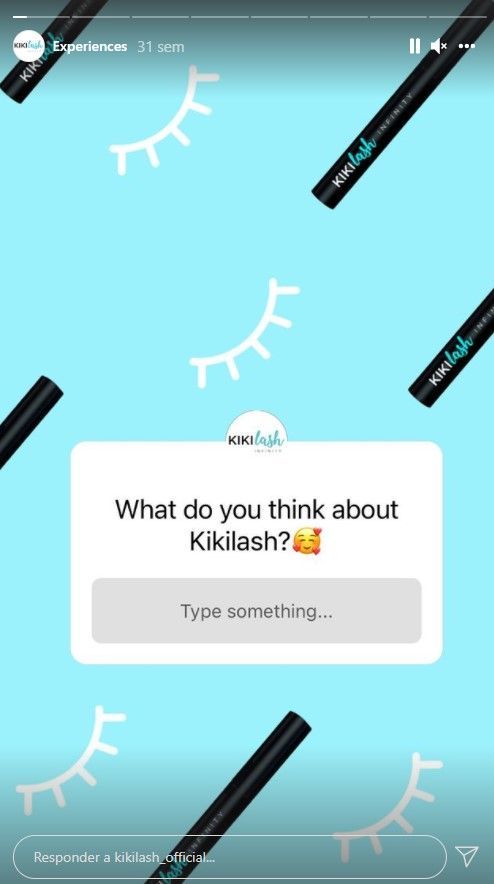 Instagram profile of @kikilash_official
Another type of interactive content we usually create is with open questions. These types of actions are usually well-received and let you obtain valuable opinions and information about your clients.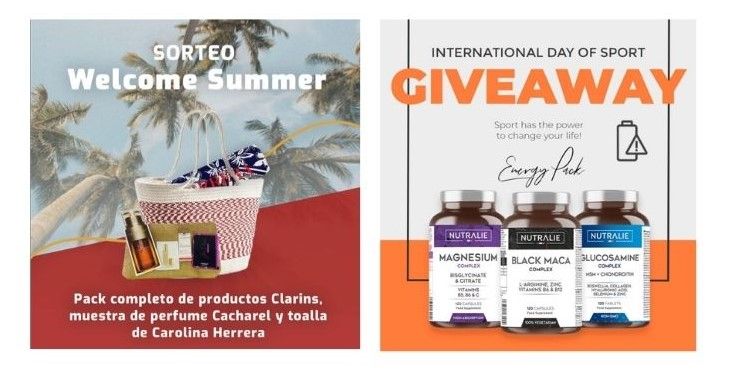 Instagram profiles of @grupo.marina y @nutralie
The social network action that most awakens the interest of your followers is probably a raffle. This type of content allows your brand to reach new audiences thanks to the labelling of accounts which already follow you and want to get your products for free.
3. Not encouraging interaction
The social networks offer company accounts a large number of valuable metrics: reach, interactions, data on audience, profile activity, etc. These data are more than mere numbers and let you pin down the success or failure of your publications. Never ignore the metrics, as they can be your best allies in getting sales.
Do you want to know which are the most important metrics? Take note.
Scope and interaction of your accounts: knowing these metrics will enable you to evaluate which types of contents offer you the most visibility and which arouse the most interest, in turn, among the users of the platform. Having this information is key, as it will let you continually tune your contents plan and, therefore, improve the performance of your platforms.
Audience analysis: the principal objective of nearly all social networks strategies is to raise the number of followers. It is fundamental for you to review frequently whether the pace of growth of your brand is complying with the expected objectives. If the answer is yes, continue along the same lines, but if on the contrary this is not the case, don't despair: make a drive for more interactive content and, above all, don't forget that your publications have to be directed to the correct audience. From where do you want followers? Do you want men or women? What age bracket are you looking for? Keep your objectives clear, use the information the metrics give you and study which types of contents could capture their attention.
4. Only speaking about your brand
No matter how interesting the benefits of your brand are, they won't in themselves get people to follow you. There isn't much "me-ism" on social networks. Offer your clients valuable contents linked to your brand: only in this way will you really prompt interest.
At Lifting Group, we have extensive experience in implementing strategies for social networks, and clear examples of this are those for Instagram accounts such as @algologieinternational_oficial, @nutralie or @keto3_official, in which, understanding how the users of the Instagram channel behave, we have managed to build valuable contents around these brands: tips, recipes, motivational quotes, raffles, packs of products, self-care routines, etc. These types of publications have successfully drawn the attention of potential customers, who frequently write to us after discovering these brands thanks to dissemination by users who follow us or the publications posted by our influencers and collaborators.
5. Only speaking about your brand

Collaborations carried out for @iduncare_official y @nutralie
Another tip we can give you is to create habits. Theme your contents and try to define a recurrence. This will let you work in a more orderly way, which your audience is also expecting, and they will understand your publications better.
It is fundamental to bear in mind that  the difficulty with social networks is not gaining new followers, but keeping them. Avoid falling into these 5 errors and make your brands truly attractive for your target public.