Lifting Group has been in business for 10 years, and its clients trust in its knowhow and value its quest for constant improvement as a Strategy and Marketing Consultancy and Agency. Over these years, Lifting Group has been a winner or finalist for different Branding, Design, Business and Digital awards. In this last, and as experts in one of the most important digital players in the world, Google, Lifting Group has been a Google Premier Partner agency for some time. This level of expertise is not just a matter of the volume of advertising investment and number of accounts that Lifting Group manages each day but also because of the expertise, knowhow and knowledge of the portfolio of solutions offered by Google in the Digital Channel. As proof of this, Lifting Group, has been recognised as the winning agency in the mobile advertising certification competition for EMEA (Europe, Middle East and Africa region)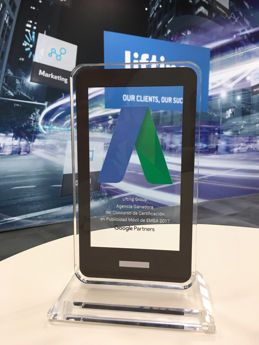 2017 Google Partners.
The competition consisted of a Mobile Advertising Certification Test and our team of Digital Consultants came out as winners, making Lifting Group the best agency in this category in the EMEA region, which is a real acknowledgement not only because of the importance of the region (EMEA is the most competitive in the world after the USA) but also because we were up against multinational agencies, many of which belong to very large groups of the sector. Another demonstration of the level of expertise and the constant pursuit of quality which characterise this marketing and strategic consultancy agency.
HOW HAS THE MARKETING AND STRATEGIC CONSULTANCY AGENCY LIFTING GROUP WON THE MOBILE ADVERTISING CERTIFICATION COMPETITION AWARD?
Lifting Group has known how to capture the potential of the mobile channel from the beginning. As a Google Premier Partner agency, it has always sought to be up to date with all the advances and changes at Google, attending private events with Google itself and sessions of Mobile Labs Google or researching the development of its own methodologies of tracking, analysis and strategy definition. We are living through times of rapid change, and Lifting Group is aware of the importance of being always current, so that it works unceasingly to achieve this.
We are genuinely happy to have received this award, which once again places Lifting Group as one of the best digital agencies and consultancies in the country.